Sort of Wonderful
January 22, 2014
I only knew him for six months, but I consider myself an expert on his existence, nevertheless.

The first day, he had a cigarette between his teeth and he was standing at the edge of an intersection, madly pressing the crosswalk button over and over and over again with a sort of determination radiating from his narrowed eyes.

I assumed he was probably crazy so I kept my distance, remaining a few feet away from him as we stood there on that patch of sidewalk together. I had just finished a semesters worth of a high school psychology class and ended with an A-, so my mind was going haywire.

He can't focus.

Tapping his ring finger violently against his leg.

Unable to hold still.

Most likely ADHD- no, ADHD is over diagnosed.

Impatient.

Swears at a light post.

Seemingly irrational and maybe delusional.

Chemical imbalance?

Then, as I was standing there psychologically assessing him, he glanced back at me and smiled abruptly, letting a puff of smoke escape his mouth.

"Damn thing," he muttered. "Must be jammed."

Those were the very first words he said to me and, still recovering from my analysis of him, I took a mental picture. He was sort of wonderful, actually. His eyes were a deep color of brown and his lashes were long and even darker, casting shadows over his cheekbones. His face was angular and sculpted, but contained a kind of warmth when he smiled, which he was. His hair was blonde, a little darker at the roots, and reached just below his jaw line. He was tall and thin and wore a dark grey sweater and black jeans. He raked his hair back casually and I noticed his teeth were a little crooked, which was comforting, because everything else about him appeared to be perfect.

I finally decided, judging by his smile, he was only slightly crazy.

That was the first day.

The second day, I found him at the same place, same time, and wearing the same clothes. A cigarette butt glowed on the cold sidewalk, letting off a trail of fine smoke. I was wondering how much he could be fined for that when he muttered under his breath, "We can't spend all our life waiting on a red light…Coffee, darlin'?"

I decided to disregard my better judgment because I was feeling suddenly daring.

That was the second day.

The following few weeks were some of my best. We made spontaneous coffee runs and went on a few road trips because he insisted the world existed primarily to be explored. We went to the drive-in and he took me out to dinner and never specified if any of those trips were dates, but the night he kissed me as we sat on a park bench in town, I decided just friends don't normally kiss their just friends.

Somewhere directly between our first day and our last day, we were sitting on my porch swing with a bottle of sparkling cider that literally tasted like happiness with a dash of carbonation. We were playing that drinking game 'Never-Have-I-Ever' with a nonalcoholic beverage, but we both seemed to be drunk anyway.

"Never have I ever fallen in love." I lied, leaning back and watching him press the bottle to his lips and then return it to its designated spot between the two of us.

"You clearly don't understand the concept of this game, darlin'." he licked his lips and took in a breath. "Never have I ever been diagnosed with stage four lung cancer."

I looked at him for a moment, and when I didn't drink, he did and whispered, "That's a lie, too."

I decided I didn't believe him, but I cried when he pulled back that damn grey sweater and revealed what apparently was a chest catheter with a few dead ended tubes protruding out of his smooth skin.

The next few weeks were different. I spent the majority of my time sitting next to him on a hospital bed because he was starting to get 'bad'. I didn't realize how bad 'bad' could be until he was hooked up to a tank of oxygen that he lugged around most of the time and carried a bloodstained handkerchief incase a coughing spell would come over him. He lost his appetite and lost weight and lost hair and lost strength. He was loosing his life, actually.

He wanted to travel, but couldn't. He wanted to take walks, but became winded the second we left his little apartment. He quit his job and bought a red knit hat to wear because his beautiful hair was thinning. I took him to church every Sunday and, before service, he'd pull me into the bathroom or some corner and, through a breaking voice, he'd ask me to rearrange his hair so when he took his hat off, the patches of pure scalp would be less prominent. I did. I smiled and held his hand and decided I didn't know what I'd do if he wasn't here.

The second to last day, he was cooped up in that tiny hospital room and I was reading 'The Great Gatsby' aloud, because that was his favorite book and he had made it a goal of his to finish it before he died.

Everything was white in the room. The curtains, the ceiling, the walls, even him. He was pale and his hair was gone and his eyelashes were sparse. Those eyes, though. They were still so full of determination, I almost couldn't believe it. He was on one of those machines that force air into you, so when he spoke, his voice came out in raspy gasps.

"Damn things," He gestured to his lungs. "Must be… jammed, huh… darlin'?"

I continued to read to him and stroke his hand until he fell asleep. In rest, he whispered my name over and over and over again, as if I was the only thing that kept him going for so long.

I decided eighteen was too young. Too young to die.

That was the second to last day.

The last day, he wanted to go home, which actually meant he wanted to come back to my home and sit on the couch or in bed and listen to that last page of his book.

We did just that. I helped him up the stairs and we sat down on my bed, pulling the heavy covers up to our chins as I began reading.

I got through a few lines before I noticed him jotting something down in my journal, which had been sitting on the edge of my nightstand. I disregarded him and continued because I could hear his breathing begin to slow to almost nothing and his free hand was locked on mine, clinging to me in a manner that resembled fear.

"'So we beat on,'" I recited. "'boats against the current, borne back ceaselessly into the past.'"

I caught my breath when I realized his chest had ceased to rise again after it fell a few moments ago. He heard the last line, though. I knew he did because his grip got even tighter and that was his way of recognizing his last accomplishment.

I reached over, taking my journal off the nightstand and flipping to the very last page. It simply read, "Coffee, darlin'?" in the worst possible handwriting, and somehow, those two words were a sufficient goodbye.

I jot down a response he would never get to read. "You're completely wonderful." A single tear ran over the ink and seeped into the white paper, staining it perminatly.

That was the last day.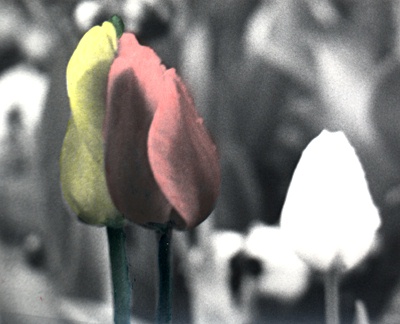 © Matt B., Highland Village, TX