Anamchara
December 30, 2013
They were both born believing everyone was perfect, except for them. Even as young children, they both knew of their brokenness and were ashamed of it. The scars of the heart equalled the scars across their flesh. Disappointments, trials and darkness all differentiated them from the others.

She thought she was slowly going mad; he thought he was simply born to mess things up. They were alone for many years, trudging laboriously through the whirlpool of life.

Somehow, the two broken dreamers collided and recognized themselves in the other. Friendship, a bonding, occurred more quickly than normal. A desperate clinging, a forming without a strong base.

Because of their natures, they broke apart and scattered. She fell into a dark valley, while he ran away to an empty forest. Alone again, as they thought they were truly meant to be.

Yet somehow, the valley soon ran into the forest and they met once more. Desperately again, with only a little more caution than the last time, they soon fell apart yet again.

The broken dreamers learned from the pain and from each other, coming together and breaking apart again and again. She saw that the rest of the world was broken too, and he realized that it was alright to be broken.

Their healing was awful, painful beyond imagining, yet their bond still remained, no matter how fragile at times. Somehow, despite the brokenness, they had become tied together into something new and whole.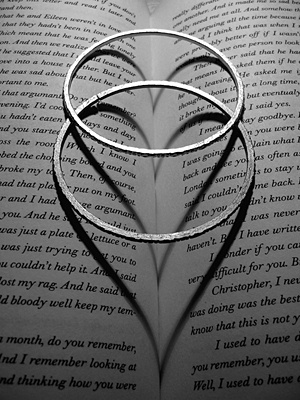 © Julia K., Old Tappan, NJ