Home Before Christmas
December 3, 2013
The wind was blowing the autumn leaves to the ground. I stare out the window of the car as my brother drives me towards my children's school. Rain whips at the window, I adjust my uniform as we pull into the parking lot of Great Lakes Elementary school.
"I didn't even tell Charlotte you came home early, West so this is a surprise for your whole family." My brother said turning a grinning at me,
"Alright, man, thanks for the ride." I say as I get out putting my cover on. I hunch my shoulders against the wind, rain, and leaves as I hurry to the school entrance.
My boots squelch against the cold school tile as I walk down the halls. I feel a tightness in my stomach and heart. It's been a year, 12 long months since I'd seen my family. I'd only been able to talk to them on the phone with them. I look at the walls of the school hall, they were decorated with happy colonists, Native Americans, turkeys, the brightly colored autumn leaves.
"In here." My brother says opening the back door to the gymnasium I step in quietly, my cover is now safely tucked away in my cargo pocket. My brother, James leads me to the stage entrance, he puts his finger to his lips to tell me to be quiet.
"And now we will have Tobias and Heather Heartland sing a duet." the announcer said.
I looked up the stairs of the stage, tears form in my eyes as I see my sun and daughter standing on the stage. Tobias is in a black suit with a white shirt and a tie with pumpkins on it. My baby girl Heather was in an orange dress with a dark green hair bow and a dark green bow around her waist. I was struck by how much they've grown since I'd seen them. The remnants of make-up from the show they'd before still on their faces. Tobias had some native war paint smeared behind his ears and a bit on his neck.
My wife is at the piano, she is beautiful in her blue jeans and orange blouse, her black hair hanging free around her shoulders.
The first strands of music comes from the piano. It's my favorite song, Amazing Grace. My children start to sing, I was the one who started them singing a while ago when they were little.
I became more and more excited as the song continued the announcer nods to me just as they are coming to the end of the song. I start to walk up on stage,
"Amazing Grace, how sweet the sound,
That saved a wretch like me,
I once was lost but now am found,
Was blind but now I see!" I sing as I go to stand up behind my little man and baby girl on stage.
Heather turns, her mouth drops open,
"DADDY!" she and Tobias scream at the same time and they rush forward to hug me. My wife stands up and runs over throwing her arms around my neck, tears are flowing freely from my eyes now as I hold my family close. It's been too long,
"I love you guys." I whisper as I hug them close, not wanting to let them go. I never want to let them go again, I feel their happy tears against my BDU's

"Happy Thanksgiving." I add.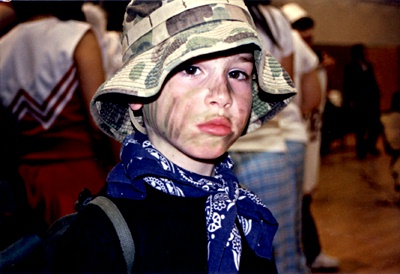 © Dena G., Pittsburgh, PA