Hospitals
November 24, 2013
I only see white. When I close my eyes at night, the fluorescent lights seem burned into my retinas, lighting up even the dark space behind my eyelids. When I arrive in the morning, the floors are white, the walls are white, and the bed is white. The blankets I put on the bed, the pictures I post on the walls, and the flowers I leave on the side table all seem pale and dead surrounded by the blinding white light.
The beeping is constantly in my head, my heart fluttering between every pause. It has almost become a noise I do not notice, like clockwork. I know that other rooms do not have such a luxury. Their beeps fluctuate, sometimes returning to normal, sometimes becoming continuous, like a bug in your ear. I hear the click of the machines in the rooms around us as they are turned off. A subtle knock at the door reveals either a smiling face saying goodbye, or an invitation to an event I would rather not attend.
Everyone knows me by now. I am a constant in this sea of ever-changing faces. I receive multiple hellos every morning. Several people ask me how I am. I do not know what they expect me to say. I am not well, and I haven't been for a long time. How could these halls not make a bad day, worse? How could these scenes not ruin a happy demeanor? How could returning to this place filled with death and sadness not render all of these people incapable of being anything but bad? But I know that is not what they are asking me, and that is not what they want to hear. So I smile and say "I am doing well, thank you. She is better today." Or I nod solemnly and say, "I am okay. She took a turn for the worst yesterday, but she always pulls through." And then I politely leave before they offer the same advice I have heard so many times. It falls on deaf ears.
I do not want you to tell me that you understand. I do not want you to tell me that you know what I am going through because you do not. The people that have helped the most are not the ones that have asked me to talk, or to cry, or to shake it off. The ones that have helped me the most sit next to me in silence. When they do speak, they say softly "I simply cannot imagine what you are going through." And they open their arms and those are the times that I allow myself to break down. I sob in the arms of people who could not possibly understand what I am going through because, if someone did understand, who would hold us together when we both fell apart?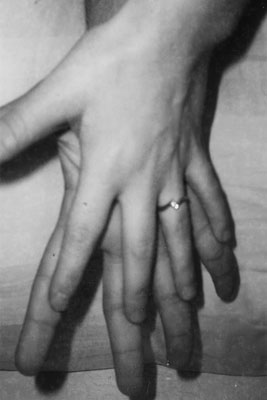 © Heather H., Phoenix, AZ