Contact
November 14, 2013
1 p.m at Wal-Mart on a Saturday.
Not a good place to be if you don't like crowds.






Some kid screams angrily and you wish that, for just a moment, you could be that kid's mom. So you could give him a good slap upside the head. Cause he needs one.

The steady beep of the scanners at the checkout line, the swish of the plastic bags as they slither over boxes, the tired faces of people you don't know. It's all starting to get to you. So you ask your buddy to take your place for a moment so you can have a bathroom break.
Inside the bathroom it is quiet.
The tiles and ceramic are clean, bleachy, because Marta understands that this job is her ticket to a life in America. She hated life in Mexico but still misses her family.You know because she talks to you at lunch, waving her hands and smiling as she shares her food with you. As you rinse the foam soap off your hands, a dingy shadow slips through the doorway. You hear murmuring and sigh inwardly as you realize it's another hobo...you'll have to ask her to leave.
You approach her and catch the smell of old trees. Kneeling down to her level, you say, "Ma'am, I'm going to have to ask you to leave. We don't allow loitering here..."
She lifts her silvered head and looks you in the eyes. Hers are bluer than an autumn day, flecked with grey.

She doesn't complain like the others do, doesn't fight you off. Her clear gaze locks with yours as she takes your hand.
"I'll only be a moment, dear. I just came to wash my hands...they get dusty feeding the birds." Her smile is warm, and her hands creased and smooth.
An odd chill flickers through your body. You smile uncertainly back at her and leave the bathroom, thanking her as you close the door.
Back at the cash register, the beep and chatter brings you back down to reality. You thank your friend and take your station again, unsettled, though you've no idea why.
Remembering the old lady, you keep a close eye on the bathroom door. Some of them like to stay the night in the winters.
Closing time, and you haven't seen her leave. So you make your way back to the bathroom and push the door open, fully anticipating argument.
It doesn't come, because there is no one there to argue with. The stalls are empty and cold; she's gone.
At lunch tomorrow you will talk to Marta, like you always do. And as you take a warm tortilla she will tell you about the old Bird Lady who was found dead last night, frozen in Central Park. How the black eyed sparrows perched vigil for three hours.
Swish. Beep. Smile and nod while making small talk with customers. And today...today you will laugh a little. You'll try to look into the eyes of shoppers, try to see them as human beings and perhaps not numbers on a fragile receipt.
Because when you look at them, you can see the color of their eyes. You can sense the life they lead, because they smell like it. Baby formula, hard whiskey, oranges, cigarettes, green grass.
Or old trees.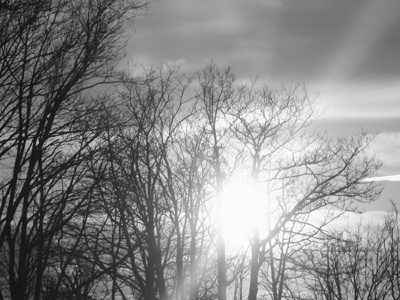 © Emma C., Gardner, MA