The Grandfather Clock
October 30, 2013
For as long as I can remember, we have had this great big wooden grandfather clock in the entrance hall. The wood is a deep thoughtful oak. The clock has a golden border and wooden carvings all around the body with many complex golden drawings scattered around as well. The face of the clock is shiny and white, complete with gold and brown roman numerals. The clock, always frozen at 1:00.

My Mother says it was my Grandma and Grandpa's clock. They had given it to us many years ago before they died. I still don't believe her though. I'm scared of that clock. I remember one night, many years ago, the clock came alive again. The hands of the clock were suddenly moving after years of hibernation.

At first, I thought it might have been a dream, or a nightmare. I had stared into the darkness of my room as the gong of the clock rang. Bang, bang bang, the clock rang over and over again until it seemed like an eternity. Finally, I could stand the noise no longer.
I climbed out of bed and crept through the dead house like a spy. Why can't the rest of my family hear that terrible noise erupting from the clock? I investigated. Surely that must hear it. I am not hallucinating anymore. Besides, it is much too loud to ignore.

I had finally reached the clock; standing on my tippy-toes, I approached it with caution. Walking as if the clock was about to come out and grab me any second. My heart pounded like a drum as I stared into the shiny face of the clock.

Suddenly, I saw as the hands of the clock began to move. It happened so suddenly that I jumped back, causing an unnecessary boom that was sure to wake my parents. The entire house shook. Except the clock.

The burning question still picked at me. How was this even possible? What kind of force could have caused the clock to live again so abruptly?

But then, somehow, I knew. It wasn't science, and I know this might not make sense, and I know maybe I'm crazy. But, to this day, I believe, that inside the clock is the spirit of my Grandfather.
He was watching over me, pretending to be frozen. Quietly ticking, protecting me. Until he had to tell me something by coming alive.

And to this day, I will still never really know what it was. The mystery behind the Grandfather clock. I now sit every day, ticking, watching, and waiting to find out.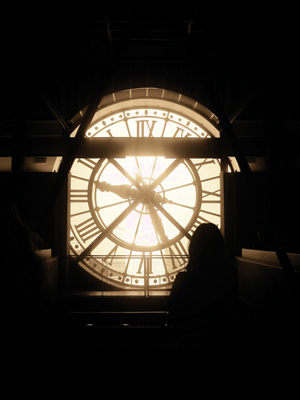 © Treza R., Kalispell, MT