Necessary Goodbye
September 7, 2013
I had loved him completely, with all of my being, soul and mind. Our whirlwind passion was a temporary, frail thing. You see, because we both loved each other so much, so completely but so suddenly, there was no room for me, or him, or them, only us and what that meant. We shut out the world, pulling the cord of our own life support system without realizing it.

It was more of a curse than a blessing, controlling my life and my choices, my every thought. It was a snake coiled around my soul, tightening with every attempt at freedom. We were simply too young to even understand what love meant. Our love was untameable and vicious.

We both knew it had to end but neither of us wanted the pain either. Yet the pain would come no matter what we chose. I thought his anger would tear him apart, breaking him from the inside out until he was nothing more than anger incarnate.

Every night was an eternal hell, eyes wide open and trying to think of anything but what I thought about. My memories were like ghosts, taunting me with our laughter, our happier times. Us together, a thing complete but not complete in the world or in life. So it added to the list of broken things in our lives.

I remember our goodbye, our argument and agreement that it had to end, though neither wanted it to. He was too young and so was I, despite how mature we thought we were. For hours, I ran through the rain without thought for anything but the inner pain, the empty space where he had lived. Our beauty melted away with the cold tear drop rain.

We had become each other's world and suddenly our world was shattered, gone. Somewhere inside, I knew things would some far off day be better, yet that did nothing to ease the sharp hollowness. It did nothing to stem the waterfall of tears or the quiet rage that could not be let out.

The mirror told me of how tired and broken I was, eyes blinded by harsh lights and glistening far too bright. All feeling ceased to exist within me and all that remained was a formless self, without meaning, without purpose or love, but with potential. A seed to be planted and grown into something new. Yet the seed was planted in darkness, and nothing seemed to come from it.


Yet one day, I suddenly realized I had grown and changed. Feeling had returned, quite slowly but steadily. My brokenness was still apparent, but the pieces of myself were starting to reshape together, not the same as before but still together. My world was remade. Weakly but with determination, I have begun to walk forward.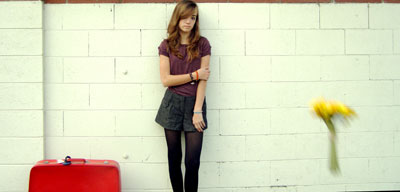 © Austin K., Studio City, CA