A Letter to the Lost
August 12, 2013
december 24, 1993

hi,

i realize its been awhile since ive talked to you; im sincerely sorry for that. i didnt even realize its been so long until i looked at the date. december 24. you know, its been a whole year since i last saw you. i miss you. i miss you more than you could imagine.

i remember exactly where we were a year ago at this exact time im writing this. 6:35. we were getting ready for christmas eve dinner. missy was purring quite content on your lap and rusty on mine.
i burnt the roast so we were trying to decide what else we could substitute for a main dish. you suggested pizza and i couldnt help but laugh at your typical response.

we ordered pizza in the end. you grinned triumphantly as you grabbed the keys and i looked longingly at the roast. i wanted christmas eve dinner to be different that year.

7:30 rolled around and you should have been home. i stood out on the porch in my winter jacket trying to peer through the snow, but it was coming down so heavily that it was no use.

i sat outside until my lips and fingers turned blue. i had to wrap myself in layers of blankets once i got back inside. poking at the fire, i continued to wait.

8:30 the phone rang and i held my breath.

i expected the worse and thats what i got.

i rushed out to my car still parked in the driveway, revved the engine, and took off before i could even change out of my nice dress and heels.

the doctors were trying to save you for three damn hours. and you completely gave up. just like that. shattering my heart into a million little pieces.

you could have fought harder. you could have... i know...

its been a whole year since youve passed and i still feel the pain of knowing youre not here weighing down on me. i feel numb. i feel alone. i could be with a crowd of people and still feel completely alone because youre not there.

i havent really been able to accept that youre gone. ive tried but it ends with me slipping into a cold, numb, depressed state of mind. i go to a part of my mind that i didnt even know existed until you were gone. if only you could miraculously come back; maybe even the darkest of spots in my mind could make flowers bloom.

you died on december 24, 1992 at 11:38 pm. my heart and happiness died along with you.

they told me your car spun off the road.

i feel like it was my fault; if only i hadnt burnt the roast you might still be here. or at least i could have gone with you and we could have died together. id imagine it would be much better than dying alone.

all alone...

its been a whole year since then, and it still hurts just as much as the very first day.

i miss you. more than anything.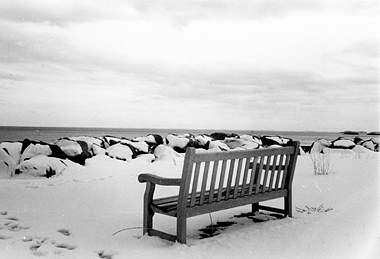 © Jen B., Marblehead, MA