The Starbucks Ghandi
MAG
July 19, 2013
Starbucks has been under siege by hostile, ­decaffeinated customers all day. Each man, woman, and hipster comes with his/her own specific instructions how to make a drink, gorily warring with the baristas over the ratio of foam to espresso. Some emerge victorious, some sip their self-proclaimed disasters with a withering look, and some on the front lines are immediately shot down. I, the stupid newbie, am the first casualty.

The addicts invade this shop using vague coffee jargon like "Grande cappuccino, wet, 140, half foam" as weaponry. The information shoots into my brain like a silver bullet, whizzing and stealing brain matter as it breaks through to the other side. Being metaphorically shot translates into a nervous eye twitch, trembling hands, and staring dumbly at the cups as if they will tell me the answer.

Is it three parts foam, two milk, one espresso? No, this is the one with the extra milk, right?

I wait to be saved by fellow Starbucks Soldier Thomas. He rolls his eyes and assembles our counterattack with ease.

"Thanks," I say as I wipe the sweat from my forehead. "I'll remember that one next time. There are just so many steps. But, I'll remember."

By four o'clock, I feel I have been subjected to open-fire, body impaled with every can of whipped cream I pressed.

Only one shard of happiness slices through my impregnable depression: Buddy.

Buddy is the war's Gandhi. When he passes through the revolving doors, there is an immediate ceasefire. Safety. Peace.

Buddy is a fully grown man, colossal and beer-bellied, but he has the ferocious energy of a puppy and the same uncanny ability to double the endorphin production of any living organism within a ten-foot radius.

Buddy bursts into the store, confidence exuding from every scruffy hair on his chin. He wears a navy backpack more suited to Dora the Explorer than the giant that he is, and dons black movie star sunglasses.

"Hey, Diane! Hey, girl!" he waves earnestly to the
older black woman working the register.

"Hello, Buddy," she replies warmly. "Nice to see you again."

"You too. Hey, Thomas!" Buddy greets each worker (except me) by name, obviously having spent his life earning frequent frappuccino miles here.

"You want the usual, baby?" Diane asks.

Buddy looks aghast at the suggestion. "No, no,

Diane. I'm on a strict diet; I've got to lose this food, baby, if I'm going to look like a stud." He rubs his burly hands on his stomach as if pregnant. "Actually, I was thinking of trying something new. There's, like, this secret Starbucks menu online that talks about all these drinks that taste like heaven."

In line, my attackers nod interestedly. They are caught up in Starbucks Gandhi's charisma too. One particularly stony blonde even takes out her earbuds to listen. "Really?"

"Yeah. If you, like, type it into Google, it shows up. It's like an underground society." He nods his head knowingly.

So wise, Starbucks Gandhi. So wise.

I don't want to smile. In fact, my facial muscles fight valiantly against the tingly, twitchy twist of my lips to maintain the stoic grimace I've been sporting all day. Maybe the rest of my day will be easier, I think with a relieved sigh. Buddy will solve everything.

"So what'll it be, Buddy?"

He pauses, hand on his hip. "I'll have a Grande Light Banana Chocolate Chip Frappuccino, half-caf, one-third the whipped cream, on the double if you can.
I'm on a deadline."

I feel my face drop. Buddy, my Starbucks Gandhi Savior, has turned against me. Fired the last blow. I mean, was that even English?

Turns out Buddy isn't my messiah; he's the enemy's spy.

The War of Starbucks continues, and I need no ­assistance helping our side lose.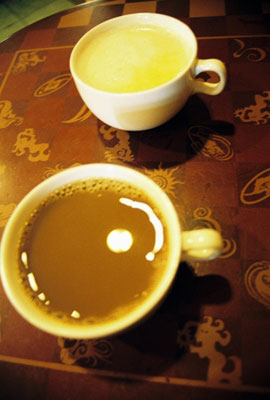 © Jaci S., Duluth, GA