The Secret Christian
July 15, 2013
My girl friend died the other week. Yeah, I know. We were together for two years. I loved her. She was different. She loved the things and the music that I did. She could belch just as loud as any guy, and swore like a sailor when she got upset. By there was a part of her that in two years time that I did not see. We were big Star Wars fans you see, that was one of the ways we said we loved each other. When She would leave for work, I would say, "may the force be with you". And she would call back from the car, just before starting it, "And also with you". I'd never met anyone else who did that. It drove me crazy. When she passed, her folks invited me to come to the church. Which I was very grateful for, since they weren't to crazy about me when she was alive. I knew a different part of her then they did. I loved her for it. So I go to this church and it's a catholic church. I haven't been since I was a kid. I spent most of the service trying not to mess up. I stood when they said stand, sat when they said sit, and kneeled with the best of them. When along came the priest and congregation response. This old man I'd never met stood at the front of the church and said, "May the lord be with you." And the crowd echoed back like a bunch of sheep, "And also with you." I almost fell into the isle. I scanned the room thinking "Did he just say what I think he just said?" No one else seemed as stunned as I did. I tried my best to stay calm and keep the tears from running down my face.

It happened a second time. "May the lord be with you."

"And also with you."

"Lift up your hearts."

"We lift them up to the lord."

Before I even knew what was happening I was blind and her mothers arms had snaked around my neck and was leading me into the hall.
I think she asked me what had set me off, but I was incapable of speech. Thinking back I would always wake up to her sitting in the kitchen around noon on a Sunday, dressed and dolled up, seemingly with no where to go. She was a church person. I felt so blind.

Her mother left me in the hall and went back into the service. I stood there alone for a few minutes feeling lost, before someone came into the hall and led me back into the room. I will never forget the song that was being sung when I came back.

"And they will know we are Christians by our love, by our love, yes they will know we are Christians by our love."

Her sister led me into the pew to stand with her. Without saying anything else, she whispered in my ear. "This was one of her favorite songs."
If you haven't guessed by now I am church person now. I never thought I would say that. Sh me may have tired to explain it to me when she was alive but she knew I would not hear it. And she loved me anyway. Standing in the service she seemed to say to me. "Now you can listen and hear the words of my God." People know I am Christian by my love.

"I see said the blind man, at long last and he picked up his hammer and saw."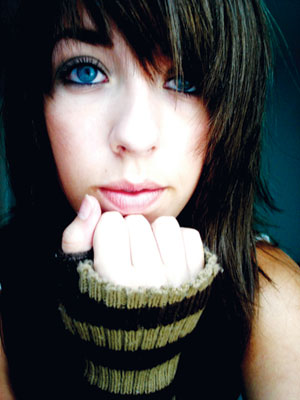 © Brit H., Peabody, MA