Un-Reality
July 2, 2013
I cry out in a shriek of despair, but I don't think anybody can hear me. I'm not sure if I'm actually screaming of if it's all in my head. All I know is that nothing seems right anymore…

The world continues to confuse me every day. Making me feel forever out of place and out of touch with my surroundings. It's supposedly my generation, but I'm so old-school compared to the people of today. The world seems so much more louder and confusing than it needs to be. But why does it only seem that way to me?

People spend more time online or on their phones than they do with people. Focusing on insignificant details rather than reality. I'm stuck with a youth that has more self-interests than ever seen before. There's a war going on, but where have all the youth gone?

No more privacy in this world of information. Any that can be seen, hear, or televised is already out there on the web. You can find out an entire person's life story merely by looking through their Facebook page. Whatever privacy hasn't been stolen is eagerly given away by the masses. People desperate to feel like they make some, even if small, contribution to society. But when inconsequential details like this pile up from all over the world, what really matters anymore?

Kindness is no longer an issue. As shown by all the people who won't even bother to look despair and sadness that surrounds them.

Manners in nonexistent and is unlikely to return. Growing up believing that people play fairly is simply a child-hood fantasy, like Sleeping Beauty. Only this damsel-in-distress has no knight to wake her up from her nightmare.

Walls confine in on me, leaving me with little air to breath. I could be dead in the next ten minutes or even the next ten seconds but there would be nobody around to notice. In a world filled with billions of people, is a single life that nonexistent?

I'm not sure when I started to feel this way. But the moment I realized that the world wasn't the dream that everyone promised it would be, reality could no longer be distorted. At least not for me.

Leaving me with panic attacks that come out of nowhere. Never creeping up on me, yet always managing to come off as a surprise. Full warning, but that never prevents the shock. As if knowing you're about to plunge into a cold body of water with no way to stop.

But I would gladly welcome the cold. Any chance for me to feel something other than the piercing numbness. An escape detachment from the world in which I live in.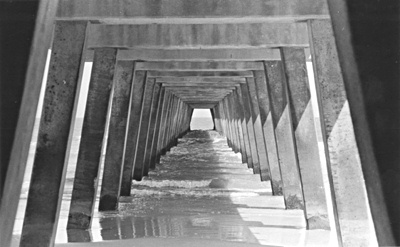 © Megan S., Marblehead, MA