Burdened Letter
May 31, 2013
"'Let's not wake in the morning and say we did. Let's hide away from Time's menacing sands, for each grain is falling too quickly for us to save. If it meant never losing me, wouldn't you?'" As if.

'With much love and compassion for you, I would've done the same. I would've done everything in my power, to erase your pains and release you from your burdens. I would've made sure, in your final days, you knew nothing but the love I had for you; and the great amount of happiness you brought me.

'Yet, all this time, I thought you loved me; that you truly, truly loved me.

'Were you afraid that you'd break my heart? Because it is now and shattered about my bedroom floor, shattered to the tiniest particles. Wasn't I worth anything to you?

'Do what makes you happy though. Forget me, if you must. But please know that I trusted you, I loved you with all my heart; that I considered you my soul mate.

'I leave to you, now, feeling hurt by your actions, betrayed, and distrusting.

'I am sorry if I was not good enough for you. That you felt pressured to be beautiful, just so you could be loved by me. I would've loved you, even if you never hid behind a false profile. Just know that next time another person falls in love with you.
'That's all I ask of you now.'
----------------------------------
The note fell from her hand and she fell alongside it. Tears of guilt and self-hatred fell freely like rain down her face, as blame took hold of her.

Why did I do this to him? He didn't deserve this.

Friends and family banged on the locked door shielding her from them. Silent screams pierced her ears before glass-shattering ones escaped her lips; releasing the sorrow her body could not fight back. Loud sobs came next before she collapsed to her side; saying her goodbyes to the world.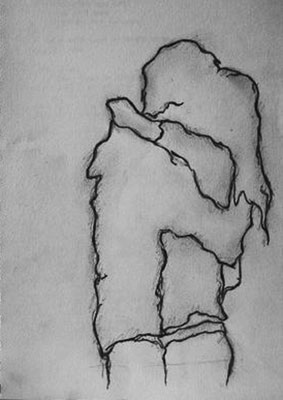 © Nicole B., Newcastle, WA