Just Jump
May 23, 2013
The crisp cool morning welcomes me with the soft trill of chirping birds. Cold nips at my bare toes as I walk to the edge of the dock. Tranquil and languid the water moves sluggishly, as if it too, is waking up from its nightly slumber. Fog had settled over the clear blue lake over the night and now moves as if the air were water. A loon cries in the distance, its call echoing along the high mountain ridges that encircle the lake. I dig my toes into the docks warm splintered wood and peer over the edge into the water below. Memories flood my mind swirling with the lake currents.
As a young child sitting on the sand afraid of the water and what might be in it--the way children think at that age. Older I ventured onto the dock but never into the water, it was too dark, too murky. Years paint themselves onto the canvas of my life and now I stand at the edge of the dock while the others play merrily in the water.
"Face fear and it cannot stand, turn away and then it towers over you." My mothers words swirl along with the tendrils of seaweed as I contemplate my next action.
I jump.
The loon cries again and I'm startled out of the past and back into the present. This time the loon's song is joined by another to create a wondrous melody. The fog begins to rise as the sun burns bright and a beautiful day is promised. I smile, breathe deeply, and simply stand on the edge of the dock.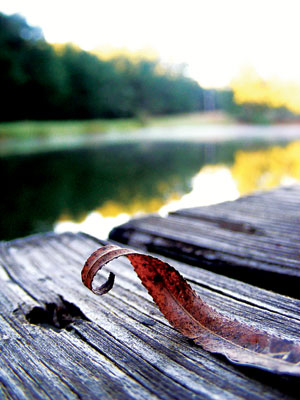 © Jack B., Central City, KY