She Ran
March 3, 2013
She ran.
She ran past parks, offices, schools, and houses. She ran on bike paths and sidewalks. She ran past dog-walkers, babies in strollers, and other runners.
She ran everyday, but never for long.
She ran one mile, taking two breaks in between. She sprinted for several yards, then stopped, exhausted.
She was not out of shape, but she thought that she was.
She was born a runner, but she didn't believe that she was.
She had the stamina to run ten miles, but she didn't believe she could.
She could be a champion someday, but she doubted herself.
She had the want, but not the need. She had the perseverance, but not the determination. She had the will, but not the way. Yet still, she ran on.
One chilly morning, a morning like any other, she went for a run. This time, however, she was not alone.
It happened as she rounded the curve of a building. She became aware of another pair of footsteps behind her. They kept her pace as she jogged slowly down the block. This made her uncomfortable. She sped up, eager to get away. The footsteps sped up behind her. She stopped abruptly and turned around.
Nothing. She could hear the other runner's footsteps disappearing around a corner. She began to run again.
She heard the footsteps come running back from around the corner to continue following her. Terrified, she started to sprint. Her follower sped up behind her.
She ran for blocks, never pausing, never slowing down. She ran with legs pumping, with chest heaving. She ran until sweat poured down her face, until she was gasping for breath.
She could hear the footsteps pounding into the pavement behind her. She heard breathing behind her.
Mile after mile, she ran. She ran until she was lost. She ran until she was found. She ran until she was home again. Then, she stopped. She quickly turned around.
There was nobody there. The footsteps had vanished, along with her fear.
Nothing but a figment of her imagination.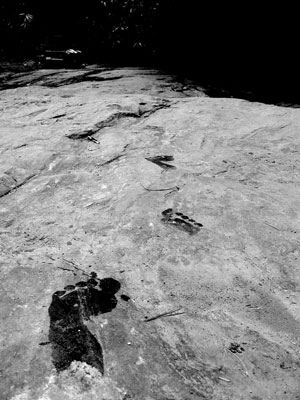 © Michelle B., Blairsville, GA