Difference in Pain
February 26, 2013
Recently I came to the realization that I was bisexual. When I decided I was comfortable enough telling my parents, I was scared. I was raised in a strict Christian family that believed that being gay was wrong, and that all gays were dammed to Hell for their indecency. When I finally did tell my mom, the conversation went a lot better than I expected.

"Hey, Mom?"

"Yes honey?"

"I wanna talk to you about something."

The words came out and her expression changed several times. At first she was confused, and then somewhat upset. In the end she was happy. Happy I had been comfortable enough, and trusted her enough to come and tell her.

Soon enough, my brother and father knew, along with my grandparents. It was only a matter of time before it began to spread through the school. I knew my brother would end up telling his friends. There was only one problem. I lived in a completely different state from my mother and brother. I lived with my dad, in a small town where everyone knew each other, and everyone was country as could be. Everyone that is, except for me.

I was the oddball, and the new girl. I had been through a traumatic summer and the memories still burn the heart that's contained in my chest. At the time, skinny jeans were something that kids tried to stay away from, and yet that was all I wore. My wardrobe consisted of only skinny jeans and dark colored tops, leathers jackets, chokers, black nail polish, and lots of eyeliner. My music genre was far from country and pop, and I didn't talk much. Being new, in a completely country/pop school was something I wasn't really used to.

My first day was strange. I had never had a locker before, even though I was going to 8th grade. The school I had transferred from didn't have lockers. I couldn't get my locker open that morning. A few students walked past and just watched me struggle. Soon a nice teacher I would come to know very well saw me and opened it with ease. After that, I learned that my locker would open on its own if I just jerked it open.

Just before lunch, I met this girl. She had been in several of my classes and sat next to me in every one. Her name was Erin. She told me that she saw me at my locker and wanted to let me know that hers was the one right next to mine and she told me she would help me whenever I needed it. I didn't know what to say so I just nodded. She walked with me to lunch and asked me if I would sit with her and her friends. I nodded and sat with them. They all got their food and one of them asked if I wanted any, being as I didn't get any food. That was when I spoke for the first time.

"I don't eat."

The words rolled off my tongue and I immediately wished I hadn't said them. They all looked at me as if I was nothing. I was the weirdo that didn't eat. Yet, what they didn't realize was that I had just gotten over a case of Bulimia, which triggered a serious case of Anorexia. By now I was used to the hunger and it didn't bother me. I was used to being an outcast, and music was the only thing helping me through. Between the hunger in my stomach and the pain on my wrists, there wasn't much else that could hurt me, or so I thought.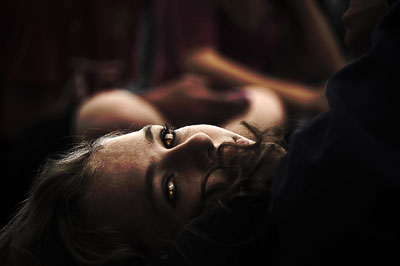 © Calvin C., Salt Lake City, UT