Teddy Bear Love
February 27, 2013
The rain pitter-pattered down the large window that spanned the apartment wall, as the lingering smell of pine needles and mint wafted through the chilly air.

Emersyn stood by the window, her lanky five-year-old figure cloaked in her quilt, her worn out teddy bear in hand. She watched as her daddy loaded the last of his things into his tiny Chevy and sprinted back through the rain indoors.

Emersyn leapt into his arms, breathing in his cinnamon and spice aroma.

"My baby." He murmured, clutching her small body to his large one and he stroked her knotted honey hair. Their tears both leaked onto the chest of her teddy bear, mixing into one essence- a liquid heart.

He pulled away and Emersyn locked her big sea-blue eyes on his. A mirror image.

"I love you, pumpkin."

Emersyn felt his lips brush her hair and heard the click of the door. She gazed out the misty window as he drove away, slipping behind the wall of rain.

"I love you too, daddy.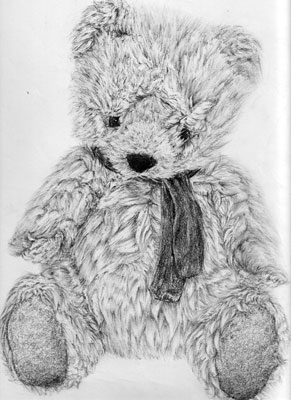 © Sarah F., Birmingham, United Kingdom