Trapped
February 24, 2013
Mia (online now) who has had a huge crush on the guy she met online, Ian has turned down three guys over the year, so true, in her love with him. He was caring — the number of times he posted on her wall was testimony to that; skilled — he got the highest scores on Bubble Safari after all; listened to everything she said — she had her inbox loaded with his sympathy; is always there for you — he never logs out of Facebook; and is extremely handsome — look at his profile picture (though you couldn't see his face in it)!
Ian is with his guy friends online too, in some other place.
*An original online conversation copy pasted*
----
Mialuvgalxx: Hey :D IAN! Wassup?
ChocoboyIan: nm…What a sexy profile pic huh.. :P
Mialuvgalxx: Mine? You've gotta be kiddin'! (smiles, he doesn't know it's a local actress' photo)
ChocoboyIan: Yeah, yours….who else could it be, baby? Hey..by the way…I want to let you know something..
Mialuvgalxx: Yes?
Mialuvgalxx: Baby you light up my world like nobody else, the way that you flick your hair…gets me overwhelmed…the way your smile…you don't know you're beautiful…Will you go out with me?
Mialuvgalxx: (thunderstruck…doesn't know that this is a song lyrics. Jumps up and down the bed. He loves her back! Doesn't know what to reply. Calls up her other friend, goes online to teen mags to check out best answers to give guys, hyperventilates, cries, and then, half an hour later.. ) YESSSSSS!!!!!!!!!!!!!! I LOVE YOU TOO!!!
ChocoboyIan: (high fives his buddies. They were contesting on who'd get the most girls. She was his fourth one online that week, and he was only one place behind winning in the multiple-dating contest) I can't believe it.. I am so crazy… I was scribbling stuff for you, but you saying yes….is like a dream.
Mialuvgalxx: scribbling stuff? (Almost in tears) what stuff?
ChocoboyIan: (copying another set of online lyrics- this one of crazy love by van Morrison) I can hear her heartbeat from a thousand miles
And the heavens open up every time she smiles
And when I come to her that is where I belong
And I'm running through her like a rivers song
Mialuvgalxx: (touched, sobbing now) just for me? I am speechless. Oh my god.
SOME DAYS LATER:

ChocoboyIan: okay, when shall we meet?
Mialuvgalxx: I don't think mom will allow me..but I'll try. no harm in lying just for a day, right, ian?
ChocoboyIan: yeah, just say you are going over to a friend's. See you at the mall tomorrow?
Mialuvgalxx: okay.
-Ian goes off to make out with his other girl-
AT THE MALL:
Mia searches for ian, supposed to be wearing a black top, and have brown hair, and purple shorts. But there's only one guy like that…but it couldn't be him. She's instantly petrified. He turns. Really short, shaven head, Black studs, arm full of tattoos, half white beard, a piercing on the lip. He calls out, coming over, "hey, baby! Right here darlin'" and hugs her- nicotine breath, alcoholic odor. This was her chocoboyIan. She frantically looks around; her cell phone is battery out.
There was no one around, and no getaway, as his similar looking guy-friends arrived. She was trapped.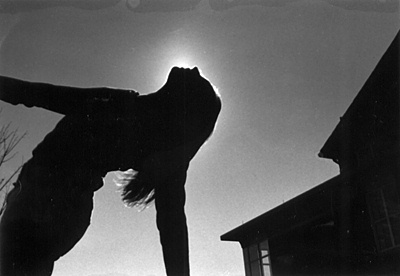 © Alexandra B., Marblehead, MA