Together Soon
February 23, 2013
The wind was relentless, battering and knocking against Sophie as she struggled on, not giving up. As far as she could remember within her seventeen years, she always liked being out in the rain and wind. She always seemed to thrive with the challenges that Mother Nature threw at her, and she always refused to give in to the elements. This all passed through her head as she continued to fight, refusing to give in to the chilling cold and harsh winter winds. To ease the heaviness in her heart and block out the bitter cold that tried to seep into her very core, instead, she thought of the happiness of her childhood, and all she was leaving behind. One particular memory almost made her smile in contrary to the dark night and dark feelings that stirred within her...

"Keep going daddy! Don't stop!" she cried, laughing and dancing around the small living room. Her father sat, with his ukulele in hand, playing the only song she knew off by heart. The small house filled with the rich timbre his voice possessed, as he sung the lively folk tune they both loved. The little girl of six continued dancing and laughing, her blue eyes sparkling and her raven black hair flying around her. She especially loved her hair because, as she spun around, she likes to believe it is like faerie wings, and that someday, she would be able to fly. She thinks this now as she dances and moves, faster as the song increases in tempo. She looks at her father and sees him smiling. Joy fills her and, despite her young age, she knows, knows with all her heart, that this is a day worth remembering.

She was a spitting image of her father, she remembered. She stopped and closed her eyes for a moment. She thought about that long ago day and her heart fills with longing and despair. Her thoughts turn to another day, when she was thirteen years old.

She swung her bag down onto her bed and walked out, going to the kitchen to get a drink. She was home alone, as she normally was, so nothing seemed out of the ordinary. She was pouring some juice when there was a knock on the door. She picked up her glass and walked to the front of the house. "Hello?" she answered, opening the door. A tall, stocky man in a police officer's uniform introduced himself as Jeff Hainsley and said that it would be best talk inside. As they sat at the kitchen table, Sophie's world fell to pieces as the officer explained why he was there.

"Look, I really don't want to have to tell you this, but... A man we believe to be your father was found on the river bank three hours ago... dead. We wanted to know if you would be able to come down and identify him for us. I know this is a lot to take in, but it would really help us." Sophie said and did nothing as the information was relayed to her. She was afraid that, if she moved, she would fall apart, unable to be put back together again. Jeff continued speaking. "There was no sign of a struggle, or harm on your father's body that would indicate him being harmed by someone else. Did you know if your father had depression or an illness relating to it?" As he said the words, Sophie's mind trailed back to the odd behaviour her father had been exhibiting the past few months. The mood swings, the short temper. Maybe he did have depression. Did he hate me, then, for having to rely on him? Was it my fault?

Sophie shook her head violently as she focused on her reality. She bent double as the shivers ran through her body, seeming to keep in time with the ever increasing wind speed. Even with the cold, though, she didn't stop. She had to finish what she started. Her heart rate increased as she saw the end of her journey. She walked faster, eager to finish what she started. The sound of her steps changed as her feet encountered the wooden bridge. She hoisted herself onto the railing and stopped, staring down at the river at least fifteen metres below her. She swung a leg over the railing, so she was straddling the plank. As she swung her other leg over, she thought about the lonely girl who found out her father was dead. She then thought about the little girl dancing to her father's beautiful voice. It was this image she kept in her mind as she leant out, holding her breath for a split second. I'll see you soon, dad. She jumped, closing her eyes. The wind rushed around her, and, almost like a last breath, she saw her father's smiling face. Then nothing.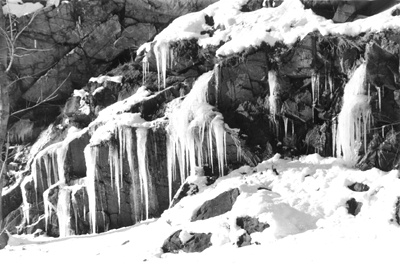 © Steve S., Marblehead, MA