Treasure Homeland
January 18, 2013
"Other things may change us, but we start and end with family." -Anthony Brandt




Often in our lives we feel both crowded and alone at the same moment. "Why might this be?" I wondered as I trudged silently through the neighbourhood park, shuffling through the tall evening grass still damp and shivering from a recent shower. The perfect reminder of having been drenched a few minutes ago. I shift my gaze to the emerging stars up above as my mind begins to process what had happened.

This time it was fast—but that's a waste of breath, because it almost always is. And that's the worst thing about it. I vaguely recall sitting at my mahogany desk with my laptop open, everything normal as it is until he comes in. Sparks fly. He goes out. Nothing has changed, except for an empty space on my mahogany desk and a fresh scar in my memories. I like to tell myself that the thing that causes all of this is it—it lurks, strikes at the most fragile moment in time—and before anyone realizes all's already too late. The merciless cloud has passed, the storm is over, but brings away with it all existing feelings of togetherness and peace—leaving nothing but bleak silence in its wake. However, despite my desperate reasoning and conclusions, I know that the truth has always laid not deep within me. What I don't know is when I will quit making myself stories and eat the bitter truth of reality...

When they're there they seem like they're not—and once they're really not you just can't seem to feel any lonelier. I once heard this saying in a movie that really fascinated me. It was a time before war, sadness and pain came to the world, when the main protagonist's best friend said that if happiness could take the form of any object, it would most likely resemble glass. Yes, a shard of beauty and inconspicuousness, we see it all the time but we always see through it, focusing on matters beyond. However, turn your back on it and you will catch a glimpse of its utter magnificence from the corner of your eye. It's a similar idea for family. I kick a pebble off the sidewalk. Years pass by and hellos become tiring. Conversations shorten, then disappear. Treads become worn and loose. Why is this happening? Are teens so paranoid and ignorant that they don't realize what precious little time they have with their loved ones, or at least ones who love them? Or rather, is it just me speaking out from my own conscience...?

I was still lost in thought when I glanced down and noticed my feet had stopped walking—confused, I look around until a set of dangling wind chimes catch my eye. Strange, the same glossy raspberry wind chimes I eagerly received from a kindly old neighbour on my 7th birthday; the same rusty pomegranate wind chimes that would tinkle up a melody I know so well I can sing it in my sleep. It was the chimes' daily symphonious routine that finally wakes me to my senses— I'm home. I smile as I imagine my father squatting on the top of the staircase, knowing it's me behind that worn whitewashed front door; the aroma of my mother's cooking melting my senses as she calls my name brightly the second I step in; my own room cavern-like in its own unique way, greeting me with the same ordeal as it always did. For some reason, at that moment, I didn't have any worries or pains or regrets—all I knew and treasured in my heart was that...I'm home.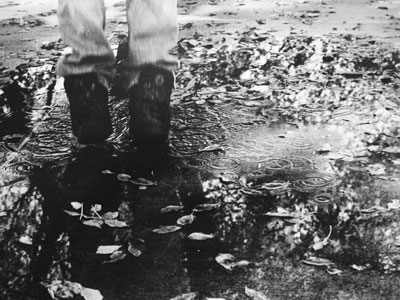 © Laura M., Eagan, MN