Teardrops that Fertilize
January 27, 2013
There's this part in the graveyard. The grass stands greener on one side of it. The rest of the graveyard is gray and unkept. Each grave covered in a thick layer of moldy moss. The trees, lifeless like the bodies that lay in their rotting coffins.
I always fin my way over to this place in the graveyard where the grass lays greener. It's called the "happy place." A statue of an Angel hovers over the peaceful graves around. Floweres decorate the graves making the graves seem less melancholy.
THe grass is greener her because of it being watered so often. This part of the graveyard is watered by the tears that have been shed. As each teardrop hits the Earth around it, a story is told. This part of the grave yard is the "happy place." it's called the happy place because this is where the children are buried at. Each grave tells a story. A perfect, crisp name carved into its solid marble foundation. One intricate design has been carefully crafted into the unique slab od marble. Some of flowers, some of broken hearts, and some of bright smiles.
I lay a boquet of bright Marigolds under a grave. The flowers are for my brother, Taylor. Everyday I miss him. His bright smile, and his twinkling eyes.
Tears triggered from his memories fall onto the ground around his grave. Each teardrop tells a story about our lives together. The teardrops were bright and special memories. So many great adventures, and wonderful journeys strewn across the green grass. I believe the teardrops full of adventure and joy act like a "fertilizer" to the grass. The grass gets greener as every teardrop hits the ground.
I stand up, and I wipe my face. I wipe the memories off, and I let them hit the ground, fertilizing each blade of grass. As I walk I turn back to look at the "happy place." I swear the grass looks richer, brighter, and greener.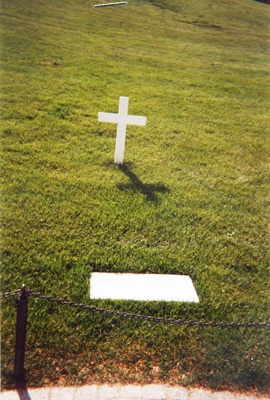 © Whitney T., Glenpool, OK