Untitled
January 9, 2013
I let the bottle of pills roll around aimlessly in my palms as my mind searches desperately for what is wrong and what is right. I was sick; tired of the constant reminders of the past and tired of the constant battering from my present life. My mind was screwed beyond the point of return. The drugs and alcohol had finally caught up to me and were now dictating my life. My eyes wander down from the bottle of pills to my wrists, tracing each scar as if it were an intricate drawing. My art. A tear glides down my cheek, but no emotion shows from behind it. I am emotionless. I am dead. I am no longer here. Nothing registers. Not school, 'friends', my past, my present, my future. Collin. Oh Collin. My breath catches at the sudden realization of what I would be leaving behind. Collin, oh wonderful Collin. Helpful, smart, beautiful, caring Collin. The list is endless. I find the pills in my hand again. I can't keep putting this off. This needs to end now. Tears pour down my face, plopping down on my crossed legs. Still no emotion. I take one more drag from my joint and finish off the small bottle of alcohol sitting on my bed.

"You're as good as dead…" I mutter drunkenly to myself as I close my hand around the pills I just emptied from the container. I close my eyes. Breathe in, breathe out. A reminder that I will never feel my heart beat, the air run though my nose, or my chest rise and fall with a single breath ever again. I will be dead. I will finally be happy. And maybe people will actually remember me then. The emo girl who actually killed herself. I smirk shaking my head. Finally I tip my head back and swallow the handful of pills. I smile at my reflection in the mirror. Red puffy eyes, tear streaked cheeks, red nose, blotchy skin.
I don't know how long I sat there waiting for my vision to fade to blackness. I ached for everything to just be over and done with. No one would have to worry about me any more. Jade could finally become friends with other people, Tom could stop fretting about me every two seconds and actually live his life, and Collin could finally move onto someone worth his time. Someone unlike me. The thought caused an ache in my chest and more tears rolled down my cheeks.

They could all be happy.

"Anna!" a voice calls from the direction of my door, "Anna, what-," Collin's eyes trace over me sitting cross-legged on the bed with tears streaming down my cheeks, the bottle that once held pills clenched in my hand, and the small bottle of alcohol thrown to the side of my bed.

"Leave Collin," I choke out not once removing my eyes from the girl who sits across from me in my mirror. The broken look on her face grows. A boy pops into the frame, eyes wide.

"Anna! You didn't take those pills! Oh god!" The boy in the mirror rakes his fingers through his hair worriedly. Why does he worry? Why does he care for this girl? Why does he care if she dies?

"She did," I whisper.

"Oh God, oh God!" The boy extracts a phone from his pocket and dials a number before crying into the phone. Something about needing an ambulance, I don't know, I can barely hear. I can hear the blood pulsing through me, my heartbeat quickening. I don't know if it's the pills, or the adrenaline from knowing that I actually did it. The girl's eyes start to droop as mine droop in sync. The boy leans down to her and grabs her shoulders, "Don't you dare close those eyes!" he shakes her forcefully, "Don't you dare!" He chokes. Is it possible I vaguely see a tear slide down his chiseled face?

"She has to, she's so tired…" I whisper as my head rolls back as though its not attached to my body. Every bit of me feels so heavy, I can barely even lift my hand up to brush a tear off the boy's cheek.

"No! She does not have to! She needs to keep her eyes open! Okay? Can yo-she do that for me? Can she keep her eyes open for a little while longer? "

"I don't know…" I mumble. My hand drops back to my side and my head rolls over to look in the mirror. Empty, soulless eyes peer back at me. Collin rocks me in his arms.

"It's gonna be okay, just keep your eyes open. For me," His voice cracks with nearly every word. What have I done? I'm going to die.
I hear sirens outside of the house and Collin picks me up delicately rushing me to meet the ambulance. The rest is a blur as I get strapped into a gurney and am rushed off to the hospital.

Life fades to black.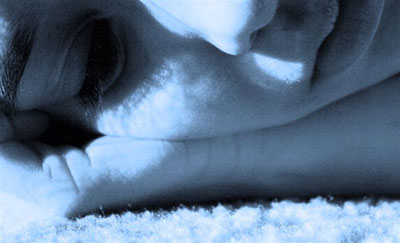 © Paula B., Katy, TX