The Tombstone Prayer
December 27, 2012
I kneel down on the grass in front of the tomb stone. The flowers in my hands slip to the ground. I place my hand on top of the smooth stone, tears stream down my face like they did the first time we laid him to rest. My vision is bleary as I stare at the stone, the writing is hard to read due to the tears blurring my vision. I know what it says though.


Nathaniel


William


August


PFC

US Marines

Afghanistan
December 13, 1990
November 5, 2009
Beloved Son and Brother



I've been here so many times I know the inscription by heart. I cry harder, it wasn't fair! He was so young, so brave. His life had been snatched away from him in the prime of his youth. Is press my forehead against the hand on the grave stone.
"God, dear God, I don't understand why you took him. He was so young, I know he loved you God, he loved you with all his heart, but why? Why? did you take him?" I murmur my tearful prayer, not looking up to the great blue highway of the clear autumn sky. He would've loved today, it was so beautiful and peaceful. I take a deep breath,


"God, I wish you hadn't taken him, he was a such a light down here, it's dark without him, God. I loved him, he was the best brother any sister can ask for. Little Joseph didn't even get to meet him, he's always asking about the older brother who died when he was a baby though. And mom, she's not the same, more distant, quiet, she cries if we even mention Nathaniel. Dad, well he pretends to be OK, he tries to be strong, I hear cry though, God. I hear him cry when he's out in the garage and thinks no one is around."


I pause in my prayer to take a shaky breath and look up at the sky, it was still clear, I'm not crying anymore, I wipe the water from my eyes and stand up. I study the sky for a while longer, it reminds me of him. Not in the harsh painful way the empty chair at the table does, or the quiet locked room at the end of the hall does. This reminds me of him in a gentle soft way, it calms me. I take a couple more shaky breaths and look back down at the tomb.


"I may not understand why you took him, God, I may not like it. So be it, we don't have to understand your plans. I'm not asking for him back God, I know that can't happen. He-" I choke on my words as I feel myself about to cry again, "He died bravely, and he died for what he believed in. Now he's enjoying his sweet escape from this earth. But God, please, I want my family to be comforted, I want them to be happy again. Please God, please." I finish in a whisper.


Bending down I fix the flowers on the grave so the look better than I straighten and look at the tomb again, reading the inscription I know my heart one more time. "Good bye, Nathaniel." I whisper, than I turn and walk down the cemetery path, away from my brothers grave.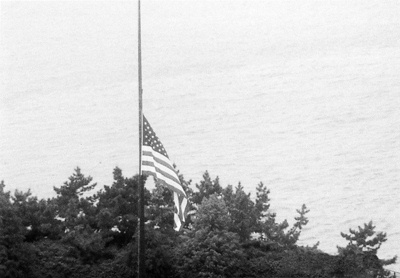 © Jessica E., Pelham, AL