One Excuse
December 17, 2012
I am angry. I am so angry I want to run through the house and kick all the walls and punch through the plaster and rip out the nails. But instead I go to my room and sob with my head beneath the pillow. I dig my nails into my hands and the tears run together with snot. And I sob.

But those kids! Those kids across the hall—they just yell and they yell and they yell. Don't they understand that I am angry? I just want them to stop their screaming. I want them to be silent. I grind my teeth together until my head hurts and my eyes see red. But they still yell.

I go out. I go out and tell them to knock it off. Don't they see my face, my angry, angry face? I guess they don't; they just glare. And then the little one, the tiny little baby one says the worst three words I've ever heard: I hate you.

I am so angry. I am so angry that in that split second, I shove him. I shove him hard, right in the chest. He deserves it. I shove him and his head hits the wall. He slumps to the floor, right where he is. No cry of pain, no nothing. Just the floor. I see the dent, the small dent in the wall.

I call to him. I call his name. I scream his name. But even as I fall to the floor next to him, I know he cannot hear me. He does not move. Not a finger. Not a toe. I shake his wrist, his tiny little baby wrist. But no. Nothing. God. He's gone.

What do they do? What do they do to girls who kill their six year old brothers? I hope it's something horrible. I hope they kill me too. God. No one would believe it was an accident. I hope it's something horrible that they do to me. I deserve it.

I hope. I hope my family tells me they hate me too. That's all I need. All I need is one excuse. I just need the one excuse to go kill myself. I was angry and now he's gone. One excuse. One excuse. That's all I need.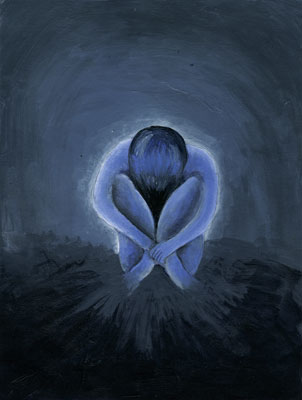 © Becky F., Sacramento, CA