Happy Insanity
November 30, 2012
I lay awake my mind wandering anywhere it can take me. Silence envelopes the world around me as my features draw a blank. Nothing can bring me back into the lively world I used to live in.

Everywhere I go, I see the negativity around us. I see the inevitable farewell of every materialistic being in this block. The bright yellow daisies seem bland and gray in my eyes. The scent of freshly baked bread waters the mouths of everyone, everyone but me. Its scent wafts through me but to no avail, I have no longing for it.

I smiled happily but fake as people approach me or look my way. It calms them to see my polite but fake smile and yet it calms them but not the stirring terrors within. I yearn to smile genuinely, for once not needing to fake my way through society govern my social norms. It's during these times; the pit falls of my depression do they appear. The occasional smiling stranger that passes as if they know what's happening to me. The spontaneous bursts of life and color in the boring fields. But when I share it, they would think I'm delusional and maybe I am.

So now I lay on my bed watching the bursts of light that surrounds my room. Listening to the whispers of the figures that lay on the floor, on my chair and beside me on my bed. They're my entertainers they say, willing to do anything to please me. With the buzzing of sounds that erupted in my room did they present their gift for me. It was a beautiful pen, laced with an intricate carving. It unleashes happiness when applied to the skin. I tried it and a rush of relief and happiness overwhelmed me as well as a sense of withdrawal. As soon as the feelings came did I fall, unconscious.

I woke up in the same place with everything there but something didn't feel right. I looked at the figures and they were more transparent looking than usual. I neared to touch them and at once did they disappear like smoke. In place of the figure was a doctor, finished injecting me with a silver colored fluid. Hurriedly he left, then I notices where I was. In a stale grey colored ward inside a mental asylum. I screamed bloody hell to those who placed me there. I missed the figures that entertained me, I miss the light that drowned the darkness lurking in my mind. I looked at my forearm and saw that it was wrapped in a bloody bandage. A nurse came to clean it up, she removed it and I saw the words Finally Happy carved into my skin. Then I realized as the nurse left, that I tried to kill myself. I shook my head to forget the thought. I sigh wishing I was back in my own hallucinations just to escape this crazed reality.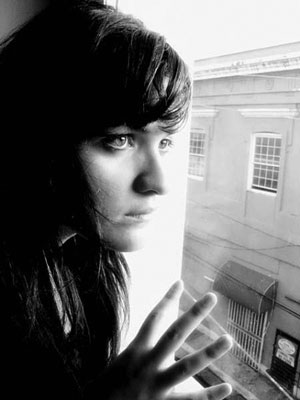 © Eveliz V., Bayamon, Puerto Rico