Georgia Sunshine
November 26, 2012
I like to think it was fate that brought us together. I truly believe that that is the only logical explanation to describe the circumstances under which we met.

We met in Georgia, the summer before junior year. Sunny Georgia, the city of Dahlonega to be exact. Located about an hour outside of Atlanta, it's the site of America's first major gold rush and present day home of Tyson chicken farms. It wasn't much; but it was home to North Georgia College and State University, a military college where we both had been enrolled for a three week introduction course to Mandarin Chinese.

Both of our parents had forced us into this "prestigious language academy", which proved to be eight hours of classes a day, coupled with an hour of physical training in the morning, to ensure the "healthy mind and body" experience. But those moments in between, in the dining hall and on break, we got to know each other very well, very quickly.

You were by far the most interesting person I had ever met. You said your dad was in the military and that you moved around a lot as a child . When you first told me you had spent three years living in Switzerland, I didn't believe you. You laughed, and began conversing at length in fluent Swedish. You spoke about Switzerland a lot, as if at age sixteen you already possessed a air of nostalgia for a place of childhood come and gone.

Maybe that's why you were so bitter and sarcastic, especially whenever you made a joke. Maybe you had hated moving around all those years. You commented on your dislike of the human species often, especially the beer-drinking-football-playing rednecks that lived near you in North Carolina. I asked you if you liked me once, as a friend, and you laughed. A laugh less cynical than usual, and you responded that you did not dislike me, which was closer than most people got. I made a joke in reply, but I secretly took it as a "maybe."

Days passed slowly in Georgia, writing Chinese characters and pronouncing words with correct tone. There wasn't a spare moment we weren't talking. Even after curfew, we'd text until I fell asleep, for you had a remarkable ability to stay awake until two in the morning, and be ready to run three miles by 6 AM. I asked you about your love life once, searching for clues about a girlfriend far away. You wrinkled your face in mock disgust. You mentioned a girl in France, who had kissed you once because she had wanted to say she "kissed an American" but other than that, you said you preferred being alone. So I demanded that you tell me everything you could remember about Paris, and we said no more about love.

I asked about France a lot after that, because it was my dream to travel to France and spend a semester studying in Paris. You said you hated the city, but added that if I ever wanted to backpack across Europe, you'd come with me. I asked you if you liked me yet, and you shook your head. You said you liked travelling, and that any person at all was better than nobody. I pointed out that you had implied that you preferred my company to that of no one, and you made some excuse of having to go review Chinese flash cards for an upcoming quiz.

You hardly spoke about your dad though; for one with a habit of rambling, words seized to flow when his name came up. There was something about watching your dad go off to war and being left home with a mom and sister that altered your perspective on a lot of things, you explained to me one day. You had an uncommonly large knowledge of nail polish, and I persuaded you to give me a manicure one day. You were good at hair braiding too, and everyone called you "gay" for a few days, but they got over it. You taught me how to do a fishtail braid, like your sister had taught you in her search for a hair dresser with thin fingers.

I remember the day I fell asleep in your lap, sitting outside under the only tree on campus that blocked nearly every ray of Georgian sunlight. You liked the shade, and so did I. We had been talking, and I had just dozed off, because that's how you made me feel; utterly comfortable and completed, contented beyond belief. You told everyone you had bored me to sleep, something even our Chinese teacher had been unable to accomplish. We laughed, and you spent the rest of the afternoon teasing me in Mandarin.

Suddenly though, three weeks was up. Time was suddenly this finite, fleeting thing, every moment of silence wasted interpreted as a moment lost. The afternoon of one of our final classes, the day before you we left, the day before you went to North Carolina and I to New York, I asked you if we'd ever meet again. I had been putting off the question, but I could no longer hold it in. You didn't laugh this time, or make a joke, but stayed silent, staring at our hands, which we intertwining with minds of their own as we sat on the floor of our classroom, backs up against the wall.


I asked you what would happen next, not meeting your eyes, but staring at my fingers. The manicure you had painted was chipped, the pink color cracked and faded.

I waited for you to say something. You always had a comment. You were probably the most quick witted person I'd ever met. The counselors used to joke that if you applied your mind to school the way you thought about farces, you could be brilliant. But you had just laughed it off, and replied that you'd rather be funny.

Your fingers slipped out of mine suddenly, and your arm made its way around my shoulders, pulling me closer to you.

You said you'd never forget me, ever. Even in a hundred years, he'd still remember me as the girl from New York City who had never eaten grits or been to a Walmart. I asked what else about me you'd remember, turning my face into your muscled shoulder.


You let out a weird sound. I think it was a laugh.

"I'll remember what a terrible flirt you were," you had said, kissing the top of my head gently.

"And I'll remember how you were the most cynical and sarcastic guy I ever met, and I think that's the reason I liked you so much."

I was crying now, because it had dawned on me that I would be leaving for the airport soon, boarding a plane that would whisk me away to my parents back home. And you would fly back to North Carolina.

"You wanna know something crazy?" you asked me. I supposed I nodded, because you just kept talking.

"I could see me with you forever. Like, in fifty years, I could see me and you sitting on a back porch on one of those couch swings just swinging back and fourth, and talking and laughing. And being happy."

I leaned over abruptly and kissed you on the lips. Our first kiss.

"Two more years and we'll be out of high school and we can be together wherever we want. We could wait two years." I sounded so optimistic in those moments, and the way you looked into my eyes, I believed them.

You said we could make it two years, no problem. You said you could ever convince your parents to visit New York City in the winter. We'd make it, and we'd make it to college and tell all our new friends about how we met in Georgia at a Chinese summer camp.

"I'm gonna tell you another secret," you said, and leaned forward to whisper in my ear. "I like you a lot more than a little. I think you're one of my favorite people I've ever met."

I don't think you meant to lie to me when you said that. Summer has a way of warping words, so that spoken sentences sound like promises, even when people don't mean them to be. I like to think that in that moment, I was your favorite person. Because, I swear, in that moment, you were mine.

I wish I could end this with something happy, like we survived the distance through texting and late night phone calls. But we didn't. We didn't even last two months. We made it thirty nine days, from the day we promised forever. You were different when we weren't together, face to face. You hated North Carolina, and you hated everything else too. You couldn't make me happy when I was sad, because it's hard for a joke to reach someone 500 miles away. You were a misogynist, and I was a romantic, and our lives had overlapped for a brief period of time, but then resumed shooting off in opposite directions.

I went back to my normal, fast paced city life, and there were too many parties and too many friends to talk to, and there were boys in New York who could hug me when I was sad, and I couldn't wait two years for a comforting arm. You said, in that final text, after we had just gotten off the phone, that if fate had wanted us to be together, we'll meet again someday.

I wondered if you were still waiting for me. I have a boyfriend now, with brown hair like yours, but he plays football, which I knew you'd hate, which was why I didn't I didn't mention him last time we talked. I know I'll never marry this new boy, but it's nice to walk through the halls at school holding hands with someone, and I like how he buys me coffee in the morning and picks me up from soccer practice if it's raining.

But please, if you ever find yourself in New York City, call me. I think I'll fall in love with you again the second I see your face, or the moment your hand touches my arm. It scares me and excites me, but in the present, it's a lonely sort of feeling.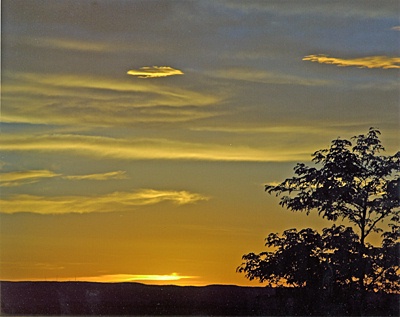 © Elizabeth B., Wichita Falls, TX