The Waiting Room
October 6, 2012
Silence. Boredom. Restlessness. And profound trepidation. Those are the words I would use to express the mix of emotions in this room. But not just any room.
The waiting room.
Sterile. Off white walls. Cheap imitations of semi famous paintings precariously hanging. One sofa, seven plastic chairs and a coffee table. That is how I would describe our current setting.
My older brother, Jonathan. Overdose. Coma. Dangerous corrective surgery. Dangerous enough to render him either a vegetable for the rest of his life or kill him, if done incorrectly. That's why we're here.
Mom is curled up on one of the couches with her arms wrapped tightly around her knees, rocking back and forth and crying and murmuring softly to herself. Dad paces silently from one end of the room to another, unable to control his nervous energy. Aunt Del flits in and out of the room, bringing in food no one can bare to eat and pestering the nurses for any updates. Which of course there are none. And I sit on the other end of the couch, staring blankly at he same magazine article as I have for the past hour.
I walk over to Mom and put my arms around her. She turns her head to stare at me. Eyes bloodshot, hair a messy halo around her head and a face that has aged a million years over the course of a few years.
"I don't know what I'd do if I lost him," she whispers. I just nod, because I don't know what I'd do if I lost him, too. I'm scared, just as bad as her and the rest of them. The reason I can't reassure her is because I'm experiencing the same kind of fear she is. One where our screams are silent and in our hearts rather than of aloud. And instead of being afraid for our own lives we fear for the one's closest to us. And maybe that's the worst kind of fear of all.
There is a knock on the door. And when the doctor walks in and I see his face- grim, weary- I know all I need to know. And when he speaks, "I regret to inform you…" and I see my mom collapse onto the ground I become certain that fearing for the loss of a loved one is the worst kind of fear of all.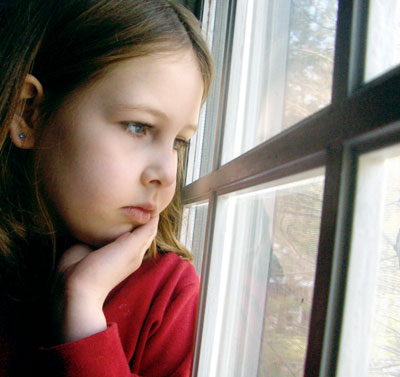 © Dana D., Gansevoort, NY