Whens
MAG
September 22, 2012
She speaks in whens.

When your sister gets nominated for an Oscar, I'll take you two to Paris and we'll buy designer dresses.

When you graduate, I'll put your name on a poster and scream like I'm at a rock concert. That'll wipe the smirk off your principal's face.

When I get better, we'll throw a theme party. I'm thinking disco. Or maybe a masquerade – won't that be fun?

I nod and repeat: When Izzy gets nominated. When I graduate. When you get better.

The nurses speak in ifs.

If this chemo goes okay …

If there are no more signs …

If the CT scan continues to show …

She says she doesn't believe in cat scans. She makes me call them that: cat scans. Those pesky cats don't know what they're talking about, she says. I'm fine now.

I nod and write her plans in the notebook I always bring. I do the writing now. We're both afraid to see her hands quiver lines of uncertainty on the paper.

I bring her French fashion magazines and stories of my principal and magazines about planning parties. When, I promise her. I cocoon us in whens, where no doubts can tear us apart.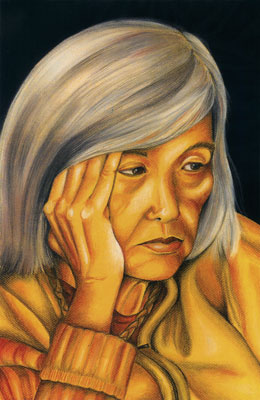 © Kaitlin C., Forest Hills, NY