The Candy Bar
September 27, 2012
The Candy Bar


I am walking leisurely home from school, my mind drifting off to the clouds above. I feel the wind whipping through my hair and hear my keys clanging in my jacket pocket. Cars speed by me without even a glance, just go, go, go.

The walk home seems to feel like forever, but I only live a few blocks away. A cyclist passes me with no attempt to say hello or make eye contact. Kids shove by me obnoxiously on the sidewalk as if they own it. They shout and laugh cursing at each other about who won in gym class that day. I roll my eyes and continue walking home, but now my mood has turned foul and I just want to get home. I have no doubt in my mind that a dark raincloud will hover above my head, broadcasting my lovely afternoon.

Across the street, I see some teenagers standing lazily on their skateboards with their ear-buds glued inside their ears. One of the boys opens a candy bar and munches rhythmically while bobbing his head to whatever he likes to call "music". Boys are all mostly the same, their version of music is usually classed as "noise". He finishes his candy bar and lets the wrapper go slowly, trying to be sly. I watch it drop gradually, as if free falling and waiting for someone to come to the rescue. It lands on the cement making a crinkle sound and I blink in disbelief. The boys don't seem to notice and they do; they don't care in the least. It sickens me to watch them treat mother Earth like garbage and no respect.

I shake my head as a gust of wind carries the candy bar wrapper to the clouds, never to be seen again. I turn my head and continue walking home and think to myself what this world is coming to.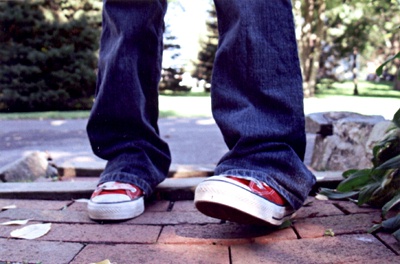 © Sara M., Milford, CT