The Window
September 16, 2012
The name is Star, Star Topana. Weird last name? I know it is. Anyway, I'm the normal
sixteen year old girl I guess. But lately, I've felt utterly alone in every way.
So I started staring out the window. I see strange things when I stare out the
window of my three story house. Whether they're figments of my imagination or real
world things, I'm unsure. I started looking out the window when I was about fifteen
or sixteen and I like to talk to the things I see. Sometimes they talk back and
sometimes they don't, but the other day, Mother came in whilst I was talking to the
boy in the reflection. She gave me a weird look and then slowly went back out the
door. Since then, she's been making phone calls for hours on end and referring to me
as her 'Mentally unsound friend'. So I guess she's disowned me but I really don't
care because I've got my weird things to talk to when I'm alone. The boy, with his nose-
length jet black hair, star-crossed blue eyes, chiseled cheek bones, and unusually pale
skin, sometimes appears in my head when I'm looking away from my window. I guess I can
come across kind of creepy to people walking by on the sidewalk. Imagine, you're just
walking along and look to your right to find a three story white house, with antennas
on the three pointed towers, cracked vinyl siding, looming black door, and a girl with
long dark brown hair and blood shot eyes just staring down at you with her mouth moving,
just no words coming out that you can hear. Yeah, straight out of a horror movie. The
strange things that I see are these: a black wolf with yellow eyes, a little girl with
pale blue-white skin with a very sad story to tell, the boy in the reflection or as I
call him 'protector', a white horse with a fiery mane and tail, and a man in a very
nice black suit and a top hat. They're all willing to talk if you're willing to listen.
I've listened to them all and they've all listened to me and infinite amount of times.
Mother says I have to come downstairs as I'm talking to the white fiery horse, I obey.
She tells me that I have to go to a hospital where doctors will make my weird things
go away. Doesn't she understand that I like my weird things?
"I don't want them to go away." I tell her.
"Baby, they have to go away for your own good." She tries to explain. I scan her face
in hopes that she's joking. I can find no signs of a laugh anywhere, her eyes are
blood shot and puffy around the edges. Has she been crying?
"I. Don't. Want. Them. To. Go. Away." I state, gritting my teeth.
"Okay, okay. You don't have to go." I smile and tilt my head to the right and run back
to the window in my room. The horse was still there and I continue talking to him. A
while later two big men in white scrubs came in and hauled me away in their scary white
van.
"Mother, where are they taking me?" I asked her as she just stands by the door.
"They're going to help you, dear, make the weird things go away." She said,a tear rolling
down her cheek. I started screaming and kicking, trying to make them let me go.
"I DON'T WANT THEM TO GO AWAY!?!" I screamed at the top of my lungs. They put me in
the van and secured me in a self-hugging jacket. This has been my tale, if you believe
it, good for you. But if you don't I'm not around to make you believe anymore.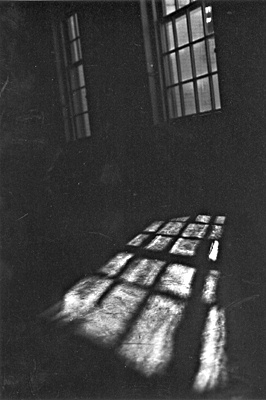 © Mary A., Fullerton, CA