For a Reason
September 9, 2012
For a Reason

Monday morning and Katie got up and ready for school. She hated Mondays, but the cold crisp February sunshine made up for it. Heading to school, her feet crunched on the last of the melting snow. Flowers were starting to slowly bloom, giving the hint that spring was right around the corner. She arrived at school and hoped today was going to be a good day.
Throughout the whole day, Katie kept thinking of Derek's party that weekend and how she was finally invited! "Maybe he would ask me out and I would finally be popular." she thought. But something kept eating away at the inside of her gut making her nauseous.
School as per usual dragged on and Katie accidentally bumped into Derek as she was leaving.
"Hey Kat. Are you coming to my party this weekend?" he said winking at her.
"You bet! By the way my name is Katie." she said smiling.
"Yeah, whatever." he said walking away.
She could not believe that Derek actually spoke to her! Katie walked home and the crisp wind slapped her in the face, but she didn't care. All she could think about was her outfit for this weekend and dancing with Derek. She grabbed her key from her bag and opened the door. Their house wasn't big, but it was just enough space for the three of them. Katie sauntered into the kitchen and came face to face with both of her parents. She had a bad feeling because both of them home this early was not normal.
"Sit down Katie, we need to talk to you." her father said.
"What's going on guys?" she asked confused.
"Your mother and I have been thinking about this for a while and have been waiting to tell when we were sure." he said, the suspense building in the room.
"Dad you can tell me! What!?" she shrieked.
"We are moving." her mother blurted out.
"WHAT!?" Katie yelled.
"We need you to change schools; I have been watching your friends and they are not very good influences for you. And don't even get me started on that boy and that party." she said sighing.
"I can't believe you are going to ruin my life! My life is over as we know it. Katie said sadly.
"Oh don't be so dramatic. We aren't moving far, but you will have to change schools. I am sorry but you have no opportunities here. Do you not understand that next year is your Provincial exams for university?" she said seriously.
"She is right and you need to take this more seriously. This school has an amazing sports and academic program." her father said.
By then Katie couldn't take anymore. She stormed to her room and slammed the door causing her drapes to shiver and tremble as if in fear. The tears started to flow down her face and she cried into her pillow until she felt completely dehydrated. Her parents came to check on her and said they were moving this weekend and she would start her new school next week. Katie lay on her bed and cried herself to sleep.
She awoke the next morning and saw boxes surrounding her. She was so emotional last night; she hadn't realized her parents had been packing her room while she was at school yesterday. Katie didn't have the strength to get out of bed, so her mother let her miss school for the day. Her phone buzzed, but Katie ignored it and threw it across the room like it was poison. She couldn't face her friends, especially Derek; they would ridicule her if they found out her parents made her move. Katie wasn't a rebel, she never had been, but when her best friend Taylor started dying her hair and getting piercings to fit in, she decided to follow along. She had no other friends and couldn't risk being alone and the old saying goes "If you can't beat 'em join 'em."
The weekend came in the blink of an eye and hit Katie in the face so hard she could barely breathe. A lump rose in her throat knowing the life she knew before might as well have not existed. She trudged downstairs and packed the rest of her belongings and slowly got in the car. She hadn't spoken to her friends since Monday and she knew Taylor would be angry, but she didn't care. None of it mattered, this was her new life. They drove for an hour, passing field after field until they finally stopped in a quaint, little neighbourhood.
Their house was a fair sized two story home with two garages and a huge backyard. She went inside and sprinted up the stairs to her room. Her room was bright and inviting with a window seat that gave her a view of the beautiful snow-capped mountains. Katie sat down on her window seat knew she would be okay after all.
The weekend flew by with constant unpacking, but she finally felt like she could call it her home. Katie was starting her new school tomorrow and was really nervous. This was her chance at a fresh start and she prayed to God that she would not be all alone for the rest of her high school existence.
Her alarm buzzed and she woke up and threw on some skinny jeans, a tee with her favorite black Toms. She grabbed her bag and her mother drove her to school. Katie got out of the car and took a deep breath as she headed inside. The foyer was packed, but she managed to squeeze through and grab her schedule and locker combo. Next to her was a girl a few inches taller than her with wild curly hair that looked almost exotic. The girl caught her staring and came over to her.
"Hey, I am Cassie. Are you new here?" she asked.
"Yeah today is my first day and I am Katie." she said shyly.
"It's nice to meet. What's your first class?" she asked.
"English 1-1, how about you?"
"Me too! Since you are new here do you want to eat lunch with me today?" she asked.
Katie smiled and nodded her head. So many things have changed in the matter of a week and Katie already had a new friend. They walked down the hallway, talking and laughing and she couldn't stop thinking that things do happen for a reason.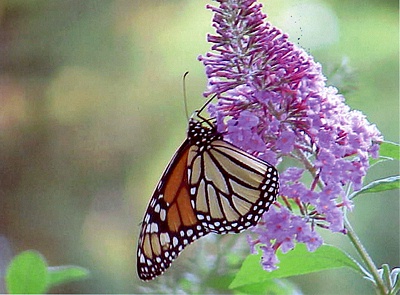 © Nathan P., Scotch Plains, NJ