She is a Dancer
August 10, 2012
She is a dancer
Maddie closes the bathroom door and locks it. She tips the bundle of clothes in her arms onto the white tile. She glances in the mirror and wrinkles her nose a little. Maddie's hair has frizzed out of its blond French braid over the course of the just-finished school day. She quickly but neatly unbraids it. Reaching for her hairbrush, she brushes until her hair flows silkily over her shoulders and back. She pats it in mild satisfaction, and sets the hairbrush on the edge of the sink.
Maddie turns her attention to her clothes. She strips off her t-shirt, tight jeans, and athletic socks, kicking them into a corner. Extracting pale pink tights from the bundle she brought with her, Maddie tugs them on, one leg at a time. Next is a black leotard. Maddie slips quickly into it, settling the short sleeves over her broad, muscular shoulders. Grabbing black Spandex shorts, she finishes off the bundle. Maddie is dressed.
Time to corral her hair in a bun. Taking up her brush again, Maddie collects up her hair into a ponytail. She fastens it with a hair binder. Twisting the ponytail tightly, she coils it into a bun. The movement is muscle memory. After securing it with a second binder, Maddie stabs a couple bobby pins into the blond knot. She reaches for the hairspray.
A couple of well-placed squirts later, Maddie returns the bottle to the cupboard. She returns her hairbrush, as well as her extra binders and bobby pins. Maddie then stands in front of the mirror and examines her reflection.
She is a dancer. Looking in the mirror, it is so perfectly obvious. Besides her balletic attire, her muscled limbs and proud posture give her away. This makes Maddis very, very proud.
She grins into the mirror; her features alight with buoyant pride. Hastily, she softens her expression into a refined, regal smile. Maddie imagines onto her feet well-worn satin pointe shoes. In her mind, she is onstage. She pliés, and dances a few steps with the ballerina in the mirror…
Maddie curtsies for her reflection, winks, and unlocks the bathroom door to attend ballet class.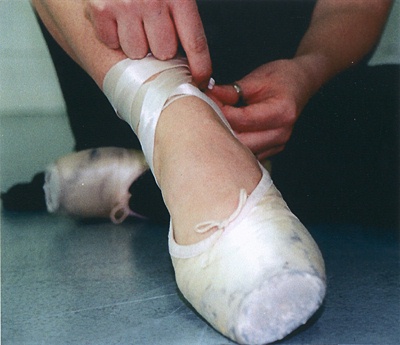 © Nora F., Pembroke, MA