Just Friends
August 8, 2012
Look at her. Right there. Walking down the hall. She's so beautiful. She doesn't even know it. She's everything to me. I can't go a single day without thinking about her. It's too bad that we're just friends. I guess that's all we'll ever be. We've been best friends for years now. But lately, I've felt something different when I'm around her. It's like I feel warmth and comfort when I'm with her. I'm just so content. I don't understand it at all. Why now? Why do I feel like this? And I'm almost positive that she has never thought of me in this way before. She's had boyfriends and I've had girlfriends during our friendship. I've sat by and watched her be happy and have a good time with other guys. I've always wondered what it would be like if I were one of them, if I wasn't just her best friend. And then, when I'm with a girl, I don't feel the same way that she makes me feel. She's the only girl that I've felt this for and I know that this feeling must be love.

I walk in the classroom to see her sitting there in jeans and a t-shirt. She sits there, doodling in her notebook, waiting for class to start. I take my seat next to her, as I always do. I wonder what she's thinking about. Now, we're the kind of friends who generally tell each other everything, but sometimes I wonder about that. In the back of my mind, I seem to hope that she's doing what I am doing right now - being secretly in love. If only I could read her mind and see what she's thinking when I give her a hug as soon as I see her in the morning or when I send a message that says "Good morning" or "Good night." If only I could know.

After school, I walk her home. We tell each other things that happened to us today. We discuss homework projects along with football and volleyball practices. She smiles when she steps on the crunching leaves below our feet. An expected sound considering it is mid-October. She's so sweet. She enjoys even the simplest moments in life. When we get to her house, we go to the backyard where we work on our assignments together. She opens her book and reads intently. The breeze blows through her long shinning hair. The sun glistens down through the trees and seems to sparkle through the moving branches. It is a perfect day. Everything's perfect when I'm with her. It takes so much for me to ignore the desire just to brush her cheek with my hand, tuck her hair behind her ear, and give her the slightest kiss. I would do anything just to have that much. But we are just friends. And if that's the way she sees it, I'll live by it. Anything for her. I know she has had to deal with scum guys in the past and she just isn't interested in dating anymore. But if that's what she wants, I'm willing to set my wants aside - for her happiness to continue.

An hour passes by. The sun is setting lower in the south-western sky. She lays there next to me as we walk about whatever we can think of. The cool grass and colorful leaves are below us. Our books are scattered next to us, closed up for the day. The breeze crawls over us so slightly. I roll onto me side to face her. I can tell that she is sleepy from the long day at school. Her warm eyes slowly close and drift to sleep. I watch her for a while, but then I give in and fall asleep myself.

Time passes. The sun is nearly setting now. My eyes adjust to the brightness. I look to my right and see the sun that is making its way behind the horizon. I look above and see the light in the trees and the leaves fall down all around. I feel her. We moved while we slept. My arm is now around her while her head is rested on my chest. Her arm is wrapped around me. She has not yet awakened. Each breath she takes, I can feel the warmth on me. It's soothing in the cool evening air. I know that I don't want to disturb her sleep. She looks so angelic. I sit there and dream about what it would be like if she was mine. If I were hers. What it would be like one day. If we lasted forever. I imagine us like this, twenty years from now. If only. If only I had the courage to tell her how I feel. I can go out on the football field and tackle the biggest guy out there. But this, this is so hard for me. Waiting. Waiting for the day when I cross her mind. Waiting for the day when she sees me as someone she wants to be with. We're perfect. She's perfect. She's always been there for me. Through break-ups, make-ups, everything. She knows how to make me smile and feel better. And I know how to make her feel the same. Why can't we be together? Because I'm a wimp. I sit here and wonder why, but that is the true answer. And until I can conquer my one fear, I'll just hold her. Like this. I'll wait until I cross her mind. I'll wait and let things fall into place on their own. I'll wait until she feels the same. I'll keep my arm around her. No matter what. Even though we are… just friends.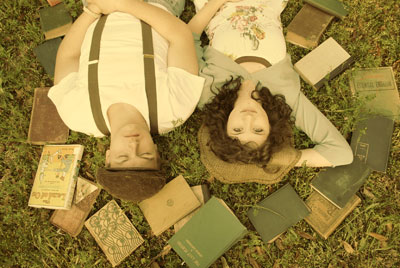 © Gabrielle A., Pensacola, FL