White Walls
July 23, 2012
My home doesn't have a fireplace, or kitchen. It doesn't have a slightly torn couch; doesn't have a closet filled with multi-hued dresses and forgotten shoes. My home beeps and whirs, ticks and chimes. Each scrape of metal and sound of machinery marks joy or despair, as the place is impressively paradox. I have relatives here and they thrive with me, our hands the instruments that strive for repeated perfection. We are uniform, a moving body that flows into each room with common purpose. The home is just off of Washington Drive around the corner from Jimmy's Bistro; it's pretty tall so you can't miss it. The gray paint is chipping, and the red shutter on the third story won't stay shut. We need to install new pavers, and the lilies are seldom watered. It isn't the most aesthetically pleasing, yet this means next to nothing in comparison to what goes on behind the front door. It is a house of miracles. It is a promise of hope. It is the hospital, and it is my sanctuary.

I have worked here for almost five years, and I've never been anything short of happy. I make my daily rounds to the NICU, and each little face brings me so much joy. It's amazing how humble our beginnings are. Babies are completely dependent, forced to rely on the decisions and care of adults. It's our responsibility to welcome new life into the world, and some of us are just kids ourselves. I'm an obstetrician because I want to bear that responsibility. When I am delivering, I am not just a doctor. I am a second mother to that child, the first person their finger grasps as they enter into a new existence. They are all my children, and I hope the best for them. Miniature blue eyes are new eyes for seeing; discovering the wondrous places the world has to offer. Pink fingers will soon grasp toys and books, and will hopefully find a hand to hold one day. Small minds are havens of possibility; some could go as far as curing cancer.


The patient today is Mia Rosa. She is 25 years old. Despite being in labor for 15 hours, she has a smile on her face at the prospect of her little boy being born. Mia has stunning olive skin and soft, long brown hair. Her almond-shaped eyes are as dark as night, but they are not cold. They invite you in, and light up every time her little one gives a kick. Her husband, David, is a wreck. Wherever he is seen in the hospital, he is pacing. In the waiting area, the cafeteria, even Mia's room- just back and forth. Every time David's with Mia he's holding her hand, asking her if there is anything he can do to make her more comfortable. The poor guy feels helpless in alleviating his wife's pain. He is tall, blond and strong. You can see his muscles rippling beneath the surface of his shirt. They are what one could call a "picture perfect" family. Both of them are very physically attractive, but there is also more beneath the surface. Mia has such a caring nature, and David will protect his family every way he can. They seem to complement each other, and even in my short time of knowing them, I can say their child will grow up in a wonderful home.





My pager buzzes, and it startles me. Room 227. Mia must be getting really close to having her little boy. I jump up and change into my scrubs as fast as I can. I run to the room and take in the scene. Mia is starting to scream from the pain. Several nurses are calming her down, and another doctor is checking the administration of medicine. A young student in fellowship is giving her sips of water. David has changed into scrubs as well, and he's sweating, scared out of his mind. But he still holds his wife's hand, and he's put on a brave face.

"It'll all be over soon. You've got this baby."

As I walk into the room, he turns to me and nods. It's in my hands now.

I go to my station and take the command. I tell the young student to back away and tell David to hold Mia's hand as tight as he can. Another nurse grabs her other hand, and now it's just me and Mia who are working.

"Push!"

"You've got it sweetheart!"

"Almost there!"

Mia is yelling, but that is soon drowned out of my focus. We are a strong tide, surging toward the shore. We are pushing together, streaming together. Our water is moving quickly, flowing toward something beautiful. We are one.

And just as soon as it started, it is over. I slowly pull the little boy into my arms and around a blanket. I hold life in my hands, and I am crying. I don't know why, but I always do. Mia and David both share in my tears, as they are at the happiest they've ever been. A perfect little guy. I choke back a sob because he reminds me of my Tyler. My precious son. I remember his blonde little curls, and the way he would giggle when I ran my fingers through them. His blue eyes were so bright on Christmas morning when he got his first bicycle. Tyler would sit under the big oak tree and flip through his picture books by himself; he didn't need to be attended to every minute. I remember when Jake and I first heard the diagnosis. The doctor's eyes were sad as he uttered the word "leukemia." As parents, we couldn't believe it. This kind of thing happened on dramatic TV shows and movies, not to us. Not to Tyler, our little angel. We only shared five short years with him. He was remarkable, and fought the battle against his sickness that all too many have to fight. I miss him every day, and I yearn to hold him once more in my arms. But I am not bitter. Tyler blessed my life, and I will carry his kind nature and charm with me until the day I die. I hold this tiny newborn and hope so much for him. I hope he doesn't ever have to hurt like Tyler did. I hope he enjoys a long, fulfilling life.

I hand the little boy to Mia, and she looks at him with astonishment and elation. I glance up at the white walls of the room. Some see the large amount of white in hospitals as encroaching and frightening. Hospitals remind people of death, sickness, and injury. I know many who don't want to walk past the front door; the practitioners, quick pace, and possibility of bad news saddens them. But I see it differently. Those white walls promise a blank slate, a new beginning. Doctors are miracle workers, mending things that can at first seem so broken. The white is a second chance. It's an empty canvas, ready to be painted with everything you had at first thought you lost.

As soon as I step out of the room, I transform from someone playing God to once more become human. I was just in the middle of a miracle, but now everything is normal. I walk to the break room and pour myself some orange juice. I sit down and allow myself a chocolate-sprinkled doughnut for a job well done. I can't help but marvel at how content I am here and how blessed I've been in my 30 years.

I touch my swelling stomach and smile.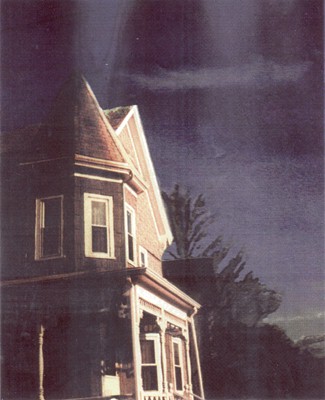 © Elyse G., Wilmington, MA