Happy New Year!
July 5, 2012
"3... 2.. 1... Happy New Year!" Everyone in Times Square exclaimed. Then it proceeded to the random sloppy kisses that must be aired on television.

I turned away from the screen. A new year, I thought to myself, watching my family clink their glasses of champagne. Like it will really make a difference?

2011 was a hard year for our family. My mom lost her job, and Dad took a major pay-cut. I couldn't stand to see everyone just so darn happy, because we all knew that the next day we would be going back to "just sliding by." They were all just making everything worse – especially for my little sister, who had been diagnosed with leukemia this past year. She was joining in the festivities, with her glass of Canada Dry, clinking her glass with everyone else. She didn't know what this year would mean to her; that we could not pay for her chemotherapy any longer. She didn't know that she would most likely not see next New Year's Eve. Through all of these thoughts, the ignorant little six-year-old grinning as she watched Lady Gaga sing on TV.

I couldn't take it any longer.

I couldn't watch her die.

I couldn't deal with my own stress, let alone that of getting a job to support my family. I'm a sophomore in high school! I shouldn't have to worry about anything other than my grades.. And maybe my relationship with Carlo.

Life was just going to go downhill anyway.. Why shouldn't I quit while I'm ahead?

I hadn't noticed the tears rolling down my face as I ran past my bedroom mirror. Flinging the window open, I saw the life below from a penthouse in Times Square. Inching my feet to the edge of the sill, I gave one final prayer to any god that would listen. I prayed that my family would be okay without me. That some miracle would save Libby, and she would beat her cancer this year. That Mom and Dad would have more money for her without me being a burden to their finances. That Carlo would find another girl that loved him as much as I do. That without me, life would be better for all of them.

I closed my eyes, and inched forward again.

Goodbye world, I thought, as I flung myself into the bustling streets below.

Or, at least, I tried to.

Strong, warm arms managed to wrap themselves around me, and pull me into my room. Sobbing uncontrollably now, I just gave in to Carlo, as he caressed my face, saying over and over again "Everything's gonna be okay."

He held me there forever. He made my sobbing subside through his whisperings of sweet Italian nothings. Before long, he had me smiling and laughing with him.

"Hey," He said after a little while. "You're a little late on my midnight kiss"

I laughed. "Your midnight kiss? What about mine?"

"I'm working on it" He whispered, putting his arm around my neck; pulling me closer. Our kiss was short, but still as sweet and as intoxicating as all of our kisses.

"Happy New Year" He said, before moving in to kiss me again.

"Happy New Year" I replied.

And oh how I prayed it would be.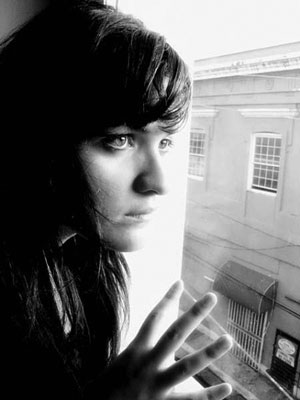 © Eveliz V., Bayamon, Puerto Rico