Amnesia
June 20, 2012
Blank pages. Blank pages, blank pages, blank pages. They line up one after another to complete an empty book. Words unwritten, pictures undrawn, smiles not yet created. Only blank pages.
My life is full of them, blank pages
They can't show you who you are, or what you were, or who you want to be. Thay can't teach you what you know, show you what you've seen or heard or touched or smelled or tasted. They can't even tell you what's right or wrong. They just wait, line up, and wait some more. My life is a book like that. My life was a book like that. My life will most likely be a book like that for ever and ever. Amen.
You can can try and fill these pages, but I promise they'll be empty again within the hour.
Maybe this time though, I'll be left with a sentance, or a word, or a smudge of a line that hadn't been erased like a dream forgotten by morning. Blank pages, blank pages, blank pages.
Like open doors leading to blank rooms, or a smiling face hidden behind blank gazes, or a thousand pictures of a blank screen. Blank pages, blank pages, blank pages.
Whatever was there was blown away was a cruel wind to an empty black hole filled with nothing anymore but what used to be me. But no they're gone, missing, blank.
So fill your own pages, let me write a few, and stay by me so I have something to know besides these blank pages...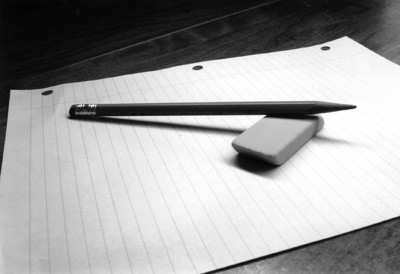 © Michael H., Mildford, CT