First Day Back
MAG
June 2, 2012
I wake up feeling like P. Diddy. Actually, no, I don't. I wake up feeling like Elizabeth Veldspar. Liz for short, which is always, since I'm only 5ƈ''. So I wake up and I know I feel like Liz and not P. Diddy because, last time I checked (which, admittedly, was never), P. Diddy had two legs. Which is one more than me.

So I pull myself out of bed, quite literally, which is a struggle. I slam a heavy hand on my alarm clock, which is screaming about something in a language I'm convinced only other alarm clocks can understand. I look down at my leg. Or rather, my not-leg. The bandage is gone, and now there is no denying the puckered scar above where my knee used to be.

My mom has laid out clothes for me, which I think is weird, because I lost a leg, not an arm, but everyone deals with things in their own way, I guess. Since the cancer showed up uninvited at the party of my life, she's been even more nurturing and selfless than usual. Poor thing.

I use my crutch to slide the stool with my clothes toward me, and I smile. I must say, my mom has a way of doing that to me. Now I see why she laid out my things – they're all new. A cute white shirt with some fake blood and a zombie joke along with pair of red short-shorts. And one new shoe. I can't help but laugh – she knows me too well. She knows I'm not the type to dwell, to hold a pity party for myself. I'm not going to try to cover up what I've lost. I'm going to wear booty shorts because this is probably the last time in my life my stump will actually be toned. And the shirt is the perfect tool to turn any sob-fest into a survivor joke.

With a bit of a struggle I manage to get dressed and migrate to the bathroom to brush my teeth and put on some eyeliner. I smile at myself in the mirror, and it's not even shaky.

I can do this. I can go to school again, and if people stare, I can smile and wave and pretend it's because they think bald looks good on me. When I first started the chemo, Mom asked if I wanted to go wig shopping. But I smiled and told her that I would rather have a prom dress.

So now I have one. It's hanging in my closet, and it's beautiful. And I'm going to walk back into high school with no hair. And I'm going to survive. Butterflies flutter in my stomach, but I force them back to bed. I've just survived cancer – high school is nothing. Right?

"Right," I mumble, then grab my backpack and thump on my butt down the stairs, still not skilled enough to risk swinging it if I don't have to. My mom hears me bumping along, and I hear her fumble the spatula as she worries about me as usual, but we both act like we're surprised to meet in the kitchen. She smiles cheerily and holds out a skillet.

"I made eggs and bacon."

I beam, giving her a hug, carefully avoiding the hot pan. "Bacon!" I clap like an idiot seal and she shakes her head, worry in her eyes as she sets the dish back on the stove. I take her hands and look in her eyes.

"Mom, don't worry. I'm fine." I dig deep and pull out a sincere smile. "I'm clean, I'm happy, and I'm starving." I let go of her and grab two plates. "You're eating with me, right?"

She nods, and I dish her up, a silent understanding between us. I'm fine because there's nothing else to be, and she's fine because I'm fine. I finish my breakfast and give her a kiss.

"Thanks for everything, Mom. I love the clothes." That coaxes joy into her eyes, and I swing out before it's gone, my crutches loud on the tile floor.

I put my hand on the doorknob with the intention of keeping stoic all day, but when I open it, I start to bawl. Because on the other side, waiting for me, are fifty people, all standing by three school buses. Favorite teachers, friends, acquaintances, classmates, theater club members, fencing students, artists and writers, and even the football team.

At the head of the crowd are my best friends, Amy, Kiera, and Jake, and my boyfriend, who is also Jake but who we call "The Boy." All of them are wearing white – my favorite color. The color of hope, of blank canvases, of new beginnings. And all of them are bald.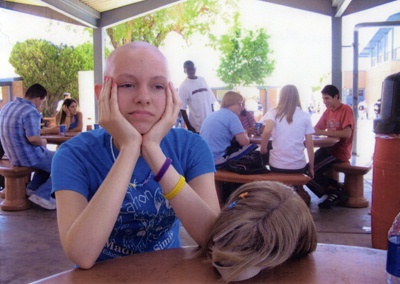 © Lauren M., Phoenix, AZ