Daddy's Little Girl
May 30, 2012
"Daddy's little girl!" she said at the age of five. Her father would always ask her every evening when he would come home, "Who's little girl are you?" She would stare up at him with her big brown eyes, and smile showing her beautiful teeth, then say those three words with so much meaning.

She stared out the window every evening around 5 o'clock waiting anxiously for his arrival. Ran towards the door as he walked in from a long day in the sun. Even if he was covered in saw dust or sweat, she always wrapped her arms around his waist and squeezed him tight. No matter what she always knew she was daddy's little girl.

As the years past her love for him grew. 10 years old, while she was on the way to the store with her father. She asked him a simple question, "Will you always love me?" He smiled at her and laughed a little then said, "Of course. No matter what you do, no matter what happens, I will always love you. Now who's little girl are you?" She smiled and said, "Daddy's little girl."

Once she got into her teens things began to change. Her mouth started to take over. Smart remarks and arguments took place. Her father could not stand it. One evening they argued over her refusal to do chores. He yelled. She screamed. His anger boiled, he never could control his temper. She stood there staring at him as he cursed.

He rose his hand, pulled it back and as it collided with her face tears began to form. Her head so quick swung towards the left. Her neck popped as her complexion began to turn so red. The pain rushed across her cheek, it began to sting, she closed her eyes. Everything became silent. Complete silence.

For a moment she felt nothing. As if it was not real, as if it never happened. Time stopped, memories of her father saying, "Your always be daddy's little girl," rung in her ears. She recalled his hands once so gentle now so harsh, his voice once so loving now so cold.

As she came back to reality she was lifeless. She could not move. She dared not move. She heard him say the coldest things, yell and shout. Cursed at her, proclaimed her as worthless and selfish. His words hurt almost as much as her face.

She slowly lifted her hand towards her cheek, it was so hot. He screamed at her to look at him when he speaks to him. She did not know what to do, he stomped over towards her. She flinched, not willing but out of instinct. She turned towards him, eyes so scared. He grabbed her arm yelled at her for being scared, blamed her for his temper. Her lip quivered, her tears still in her eyes, as if they were just as afraid to fall as she was of this man.

She stared straight in his eyes. Everyone use to say she had Daddy's eyes. But these eyes scared her, they were so cold, so dark. His grip of his hand on her arm tightened with every word, he stood not even a foot away yelled in her face. His spit landed on her forehead, his veins across his neck and temple looked as if they would burst. His eye brows could not go any further down, so many wrinkles across his forehead she never noticed before. His teeth rotten from years of neglection, he always told her when he was growing up they didn't have money for trips to the dentist. His face as if his blood was really boiling oh so bright red.

She stood there as he screamed, frightened stiffed. He finally released his grip shoved her and said he was so disappointed in her as she stumbled backwards she felt the wall behind her.

Then he said the three words that would forever stay with her. "I hate you." He turned away mumbled to himself, and looked over his shoulder to see her expression changed from scared to complete sadness. She looked down at her feet she could not bare the sight of him. He yelled at her once more cursed and blamed her for it all. He turned away mumbled and walked out the room, then slammed the door.

A tear finally fell down her face, it was as if since he left they could fall. She slid her body down the wall and curdle up on the floor. She cried, what else was there to do. She believed everything he said. She began to hate herself to. She kept repeating she was worthless she was nothing, she should be hated by everyone.

Late that night she had fallen asleep on the floor, she had not moved from that spot. Her tears had dried on her face, her armed bruised from his grip, her teeth hurt from the slap. Her dad opened the door ever so quietly, and walked over towards her. The floor creaked underneath him. He gently laid his hand on her back and shook her. He whispered, "Sweetie, sweetie, I'm sorry." As she woke she looked up at him the light from the hall crept in and shined on his face. This was the face of her daddy that she fell in love with. So loving, so happy, so gentle. She sat up and he hugged her whispered to her he does love her and he is sorry. She whispered back it was okay and she loved him too. As they stood up he asked, "Who's little girl are you?" She looked up smiled and said, "Daddy's little girl."

Those same fights occurred multiple times after just for different reasons. She covered the bruises with foundation and wiped away the tears. Pretended as if everything was perfect, for he always made it that way. She feared his love. Every time after he hurt her, he would ask that same question, "Who's little girl are you?" She responded the same thing every time, "Daddy's little girl."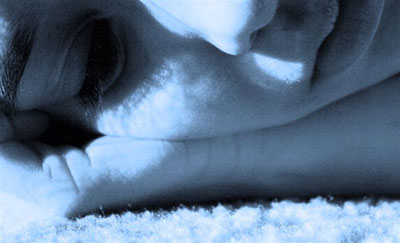 © Paula B., Katy, TX