Wronger
May 15, 2012
The room is dark. The room is cold. But I'm sweating. So is Daddy. His arms are tight around me. Almost too tight, but still not tight enough. The blinds are closed. The bed is plain. The bed is messy. Mommy is staring at the ceiling.

I don't like the way Mommy looks. She looks too white. She looks too still. I can't breathe for a sudden moment.

Mommy calls Daddy's name.

Daddy says Mommy's name back.

I feel like they're saying something I can't hear. Like something else is going on. I struggle from my father's arms. He fights to keep me still, 'til Mommy says his name again and without a word he drops me to the ground.

I bolt to Mommy's bed. I clamber up onto it. I lay my head on Mommy's chest and two cold arms wrap around me. I don't feel good. Mommy holds me closer. She covers my face in soft little kisses. I feel like I want to cry. I can't cry. The water won't rise to my eyes. It won't slide down my cheeks. It won't come out. It won't come out and I'm 'fraid it's gonna make me 'splode. Is something wrong with me? Why can't I cry?

I hear something from the direction of the door. I open my eyes.

When did I shut them?

Daddy walks over. I don't like how he looks either. He's too white. He's too still. Like Mommy.

His moves all funny as he comes around. It doesn't look right. Something wrong with him.

Stiff.

That's the word.

He looks all stiff.

He climbs onto the bed without a word. I feel wet in my hair.
Mommy's crying.

How come she can cry and I can't?

That's not fair.

Daddy lays down next to her. He's still all stiff. He stares at the ceiling like there's somethin' really 'portent up there. Mommy's arms get tighter. Almost too tight but not tight enough. She moves over. She moves closer to Daddy and she moves me too. She turns on her side and her legs curl up a bit away from me. Her knees touch my side. She's so cold.

There's a big machine next to Daddy. It's got lots of switches and lights. It's hooked up to Mommy. Mommy curls closer to Daddy. Daddy doesn't move. What's wrong? Is Daddy sick too? Is Daddy leaving me too?

But then he moves. He curls up close to Mommy and his legs bend away but his knees touch my other side. Mommy moves again. She puts her head on his chest. Daddy brushes away her tears. This looks better. Not so stiff. It's all softish. Then Daddy wraps his arms around us both and I hear Mommy sniffle. I move my body so I'm in between them both perfectly. Daddy presses his face to my hair.

There's no water.

I know why I can't cry.

I know why Daddy can't cry.

We're all out of tears.

"I love you, Mommy." It doesn't sound right. The words sound all broked. All wobbly. My throat hurts. My chest hurts. My heart hurts.

"I love you too." It's all soft, her reply. It sounds just as wrong. But it sounds wronger too. Daddy's arms tighten around me.

"Annie."

Daddy's voice sounds different. Like it's all filled up with something… With the words I can't hear. Mommy gets stiff. I feel more water. She makes a bad sound. Daddy's voice is wrong too. It sounds bad. Like when I had a 'frog in my throat' last month.

"I know. Me too." she says back

Mommy's voice sounds just as all filled up. It sounds funny. I wish I could hear all the words that are in it. I feel like I can't hear at all.

It's quiet. It's quiet and it hurts my ears. Why does it hurt? It's not loud… no… yes, it is. I don't know.

"Spencer."

Mommy's voice is all filled up again, but it's all broked. It sounds like Daddy's. But something's even more wrong. I didn't know it could get wronger.
Daddy keeps one arm wrapped around the both of us, but he leans back behind him. It's like his arm is a bazillion pounds. It moves so slowly. Then I can't see his hand no more. I hear a click. Then a dry sounding cry. Then another click. Another cry. Again a click. Again a cry. Another click.

Everything stops.

It got quieter.

It got stiller.

The side to my left, where Daddy is, suddenly starts shaking. The side to my right, where Mommy is, suddenly stops all moving. I had barely noticed the sound of heavy breathing before. I had barely felt the little movement of her breathin'.

Daddy's side moves too much.

Mommy's side moves too little.

That's wrong.

It's all wrong.

Everything's wrong.

I look up at Mommy.

Mommy closed her eyes.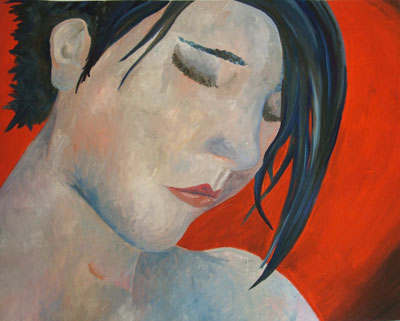 © Lindsay S., Billings, MT