Dancing from the Heart
May 14, 2012
There are moments in life. Moments where you need to stop, breathe, and enjoy the time you have in this world. Well, there was a girl once, who did just that. Her name was Emily, and she left behind a memory, a full year, that when she died was just a memory. She lived that year like nothing else mattered, and I want to share her story with you.

That year was different, and it changed my life. I was with my usual dance group, but their were more. More dancers. In my class, I danced with Jenna, Morgan, Beth, and many others.

In Jazz, I learned how do a triplet pirouette, a double stag leap. I knew the difference between dancing and doing the step you learn. That's what I learned from my Jazz teacher.

In Tap, I knew many new things, like a traveling time step, a paradiddle, Cincinnati, but most of all, I knew that to dance, you need to be free.

In ballet, I figured out how to listen, how to be patient, but most of all, I learned that you need to be tough to do the things you love.

That's not what changed my dancing career forever. It was Pointe. I got my first set of Pointe shoes on November 9, 2011. I sewed my ribbons and elastics on with my sister, and I broke them in through many hard days of going on full pointe and strengthening my arch.

That year, I was in my first dance on Pointe. I was with the older girls in my academy, and I knew the way they danced, I would dance. I trained and practiced every day in the week that I had dance on Pointe. I got blisters, and I got callouses. I earned those pains in my feet from dancing too hard.

At the end of the year, I danced in my dance recital. I felt the lights beaming down on my face, the feeling of height in the pointe shoes, and the wonder that I was dancing in Pointe, in a tutu.

I loved the feeling.


These memory belong to a girl named Emily. Wherever you are right now, know that this piece is for you.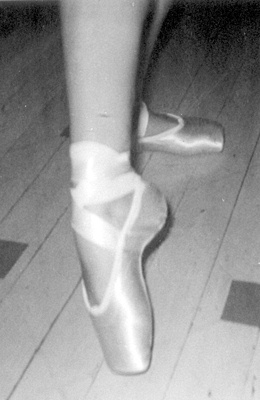 © Amelia B., Philadelphia,PA