A Child Soldier
April 23, 2012
My gun is rigid at my side-loaded and ready to shoot. But I know that I do not need it anymore. The smooth black metal has become surprisingly comforting in the last few months. It is what protects me from the flame covered world.

You would think that a murder machine might inspire fear into a person like me-a person who is small, young and naïve. But when I hold the large black repeating rifle in my hands, when I smooth my thin callused fingers over the fine brown trigger-I feel completely and absolutely safe.

There is no sound. The jungle is completely and utterly silent. Being unused to such quiet, I shift nervously as my ears ring. The wind whips silently through the bright green trees and my shadow dances behind me as I wait. For what I am waiting for, I am not entirely sure. Do I want a white flag waved at me? Do I want the enemy to come running back in on bare feet, prepared to fight to the death? I don't know.

The bright African sun is rising slowly, tinting the sky a dull, murderous red. It's as if the sky is a mirror, reflecting the color of the forest floor back into the Heavens. The cloudless canvas immortalizes the blood that stains the fertile earth around me. The blood that stains the faces of my brothers, the faces of my enemies…Red on black. Red on black.

I slowly stagger around the small open field-the only break in the endless forest of trees for two miles. As I stumble, my breath escapes my lips much too fast and my heart is beating louder than a drum. All the flowing calm of night is gone-replaced with a cold, biting atmosphere of fear. It must be over a hundred degrees, and yet I am shivering.

I realize what it is that I am afraid of: Being the last alive. Death is the only one I can truly depend on in this world (next to my rifle), for He is always with me.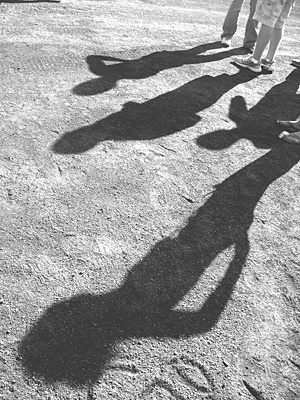 © Trella R., Mountain Lakes, NJ