Vapors of Her
February 27, 2012
I had just noticed the way the snowflakes dusted her eyelashes like they had each been placed there, in their exact place, by some unseen beauty, when she stopped walking. She looked up with her brown eyes through those beautiful eyelashes; she looked at me. Her ungloved hands trembled and her breath curled together with mine, we were so close. We stood on the corner of the sidewalk, the streetlights making our faces red, green, yellow, then red again. Traffic was barely an echo, when we stood there on a city corner, only did it seem strange to me many years after the fact. It was only us, our masks of changing colors, breath curling before us, and snowflakes on our eyelashes. It was then that she stopped walking and looked at me.

I said nothing, knowing that she would find the perfect words if I gave her the time. I looked down at her, watching the way the first snowflakes of winter fell but melted so quickly on her lovely face. We were nineteen years old, and never had I felt so close to her.

Her brown eyes fluttered between both of mine, but then fell to the ground. She sort of smiled then, recognizing the words she needed, then looked up at me through her eyelashes.

"Can I tell you a story?" she said.

I nodded slightly, losing count of how many times she had said those words to me. It was her way around the walls she had built.

"It's about a little girl. This girl, she would sit beneath a magnolia tree and she would read. And one day in May, the little girl read about flying. Never had she been so infatuated with an idea. So that day, in early May, the little girl climbed her magnolia tree."

She looked down again, and took a moment to collect her thoughts. She breathed deeply twice, the fog tickling my face, tasting like summer; it made me want more than just a vapor of her. It made me want all of her.

Looking up again, she continued.

"She climbed the magnolia tree to the very top. The air was so sweet with the magnolias, it was heavy. She climbed to the top and she saw for the first time, what earth looked like. The little girl, she saw the way the sky frayed at the horizon, bleached by the sun to white. It was beautiful. But she was a greedy child and she wanted more magnolias, more books, and more sun bleached sky. She wanted to fly."

She sort of faded away there and for a moment I thought she was finished. Her voice came again, cutting off my thoughts.

"She jumped. The little girl, she jumped. Because she thought she would fly. But she fell to the ground. She fell and she broke, because she never expected the ground. She never expected the fall itself. She jumped and she fell and she broke beneath the magnolia tree that day in May."

My chest ached for her to look up. For her to breathe. For her to become closer to me. I was begging her to let me know her, taste her, be with her and for her. None of that would come though, if I hadn't spoken.

I said, "If you could tell the girl anything, what would you say?"

She smiled. I'd said the right thing. "I'd tell her not to wish for things she can't have. I'd tell her not to climb the magnolia tree. And I'd tell her not to jump, because those things will only hurt her."

"Mm-hmm. Well, I know what I'd tell her," I said softly.

"What?" she asked, her brown eyes melting me in the cold of the first snow of winter.

I sort of stumbled over my words. They were so important, so big, so needing to be heard, that they came out rushed and seemed to trip over themselves. "I'd tell her, I'd tell her to jump. 'Cause maybe flying is possible. And 'cause even if it's not, I will always be standing beneath that magnolia tree to catch her when she falls."

Tears swelled in her eyes, devouring the snowflakes that clung to her lashes. She choked on the thickness of the moment around us. "I don't know if that's possible," she said just above a whisper. On a vapor, it floated towards me, and settled on my chest.

"Let me try," I said. And for the first time, we were closer than before, and for the first time, I had more than just a vapor of her. Snowflakes melted on our faces and bled into our tears, as the streetlights painted us in color, on the black and white edge of a city corner.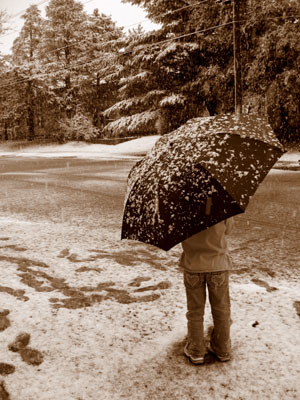 © Hui Y., Potsdam, NY