The Most Wanted
December 16, 2011
My name is Rose, I am missing. I went missing on my birthday, October 19. I was walking down a deserted street when I fell on an uneven sidewalk crack and I lost conscious. When I woke up I was I the middle of the forest. I stared to look around and I realize I don't know where I am. I don't know how I got here.

At least I look the same. I still have brown curly hair that hangs below my shoulders. My eyes are brown that turn green and hazel. I still have on my Arrive Alive bracelet and my hair tie.

Whoever is looking for me don't believe any imposters. I always carry around my hair band and my hair is normally always up. I almost always have on basketball shorts and a tee-shirt that has a logo on it. My bangs are almost always down and they hang down to the center of my cheeks (curly).

Well if I knew where I was I would be at home or at a horse show right now so FIND ME PLEASE!

UMM I think I just herd mu stomach growl. Why'll I and lost I will try to eat and sleep and find my way out of here!

My cell phone is not working here but I would like to call Hollie, Monica, Mom, and Dad about now. I am really lonely and sad. Today I saw a light in the dark forest so I walked towards it and I am in this strange room with Hollie, Monica, Mom and Dad. Hollie tells me I hit my head when I fell and got knocked out. Wasn't lost but I thought I was!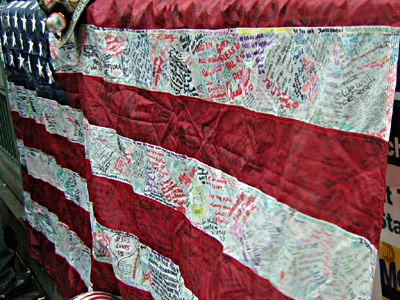 © Brittan S., Chino, CA