The One Who Taught Me Love
December 13, 2011
She's the girl that no one ever knows. With the eyes of fire and the heart as hard as stone.

Alicia had faced death so many times that it was almost funny. She existed only to feel the prickle of fear run down her spine and smell the cold sweat and blood. She thrived in the heat of the battle, when lives and freedom were depending on her, and her alone.

Wounds were nothing of matter to her, for they would heal as long as the person who bore them lived, and if that person who bore them was her, well then let the wounds take their time. If she still got to feel the thrill of thrusting a sword through an enemy's gut and the iron taste of blood on her mouth than let the wounds sting. Besides, it was so much more fun when pain fueled your rage. It made victory boil in the pit of your stomach, as if it was just waiting for another chance to emerge.

Alicia had sometimes wondered what brought other's out to the battlefield. If it was not for the sheer enjoyment of it than what else could it really be? It was certainly different for others, like when she watched her brother fight. He took no joy out of it, that much she could see. For, when he fought, he carried a bitter regret in his eyes, for what she had no knowing of. Even asking what it was brought no answers.

"It's called love." She remembered Alexander had said, when those mournful eyes of his were focused souly on cleaning his sword. He rubbed it with tender care, even though she knew he hated it.

"Love?" Alicia had asked, as she watched him begin to sharpen the steel. A steady rhythm, that always appeared within his work, started to emerge. She watched it with only my eyes though, for him thoughts were all on him, and his "love".

Alexander just smiled, and kissed my forehead with the same tenderness he used with his sword. Then, he picked up his armor and left, but without the spring she had seen in her brother before he had entered this war.

Later, for months and months to come, the meaning had eluded her, as she tried and tried again to understand the word. This so called "love" never dulled her senses when she fought, but she saw it dulled others. In truth it had taken one of her men, a brawny and equally brainy man, by the name of Harold Klark. "Love" had made him weak and just like that one of her best men had been taken.

Yet, she had even seen this "love" protect and infuriate soldiers on the field. Filling even the scrawniest men with courage she didn't know they had. "Love", whatever it was, was a very double-edged sword.

And it wasn't long before this "love" had effected her too. Standing before what remained of the brother that had protected her no matter the consequences, the first real tears ran down her face. Before she realized it, she was miles away kneeling at the grave that had been dug to remember "Alexander L. Firefox A soilder who shall not be forgotten" And, to her surprise, she was smiling to herself in stupid self-pity. "And I can't believe it took his death to realize I loved him." Quietly, she took from the hook on her belt, a polished, and sharpened sword, and thrust it into the mound.

"Who's that Mommy?" Alicia smiled.
"An old friend Alexander, an old friend."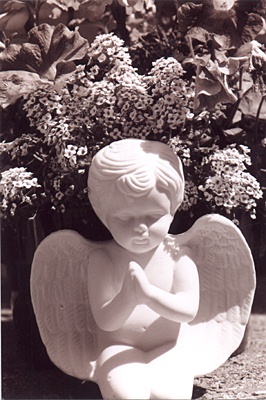 © Laurie T.,Hopkinton, MA