The almost Hiking Trip
November 23, 2011
Family vacations are supposed to be fun, and we were all so excited to get out of the house. Then, like a rainy cumulus cloud on a beautiful day, we heard a loud thud, My heart came crashing down. My dad pulled onto the side of the road. I think I heard some words that weren't necessarily appropriate for my age being mumbled under his breath. My father finally came back to inform us of the terrible news: one of the tires had popped.

My parents were discussing what to do. This function took awhile. This was horrible, I kept thinking to myself. Why did the have to happen to our family vacation, any other day would have been better? Just then, I felt the ping of a fat raindrop on my shoulder. Then on my head. My sisters and I looked up at the sky in disappointment. My parents were debating walking to a gas station, calling the insurance company, and many other sensible ideas.

I don't really recall how the next part happened, if the tow truck just showed up, or if he was called. But there he was, and pretty good looking if I do say so myself. Now, normally you're only supposed to take one person in the car with the tow man but he was generous and let my family squeeze in. Aside from the rain, my day was slowly turning around.

We got the car fixed up and headed home. The rain was letting up and the sun coming out. Instead of giving up, my parents took the next day off work and we tried again. The view was marvelous and the hiking trip was invigorating. The sky was a clear beautiful blue. I think fate popped that tire because it wanted everything to be perfect.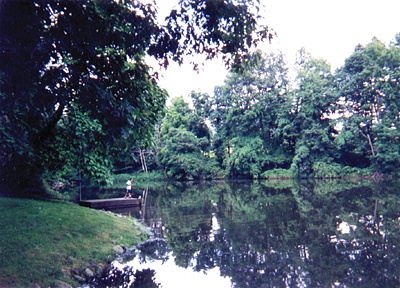 © Amber C., Fair Oaks, VA