The Atlas
September 30, 2011
It was one of those enchanted, moonlit evenings when they would search through the musty and rusty and dusty bookshelves, looking for the atlas. It was stuck between the bookends, suffocating, gasping for freedom from the trying chains of dust bunnies and cobwebs. The library was the least entered room in the house, only basked in ephemeral sunlight from a tight pocket of days between the denouement of summer and the dainty early days of autumn. Those were the evenings that they would choose to find the old atlas.

It could be called vintage by an esoteric few, due to its frail and yellowing pages that featured long-gone nations such as Zaire or Yugoslavia. They would lay stomach first, feet second on the hardwood floor, their bellies in pain from the frictioned surface and their lips awry with infatuation. Their hieroglyphic hearts drummed in unison. It was those serendipitous days when love was something they both fancied more than anything, more than the sunflowers growing in the back garden or the blueberry pie slowly burning in the oven (he told her it should be set to 425 F, but she insisted it was 450). Their algorithmic passion was transmitted between the slight reconnection of their fingertips when they both pointed on the Pacific Ocean or between their sockless toes as they shifted through the soupy air. The dusty atmosphere was visibile in the fresh and waning light; little mites of dust took voyages from one bookshelf to another, passing over their heads situated in the aisle between the fiction shelf and the poetry shelf, passing through a narrow passage of warm light from the bay window on the far side of the west wall. They would laugh and sneeze and surreptitiously stare into each other's eyes, remarking at how close they would be once she left at the end of September (just a thumb and a half away, she speculated, illustrating the distance between her present and future locales).

But time had surely passed, and it was not before long that the thumb and a half seemed too far away; that the pie in the oven set off the fire alarm; that the sunflowers in the back garden dropped their petals for winter. And he returned to the library in February, found the atlas, and laid on the floor, just like old times. But the feeling of his socks against the hardwood floor was simply not enough to palpitate the heart; and as he put his index finger thoughtfully on the Pacific Ocean and began to tear up, he began to drown in the sea, liberated and suffocated, drowning past Zaire and Yugoslavia, past her, past him, past the wooden floorboard barely supporting his existence. And as he drowned, he was palliated by wondering just how deep a thumb and a half would be in the ocean, and just before he ascertained the truth, his thumbs went numb, his body went comatose, his mind went blank...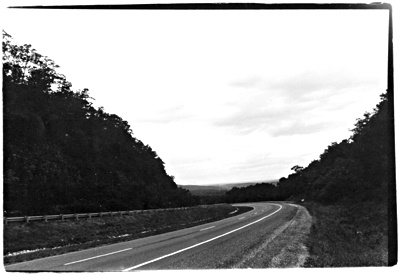 © Courtney R., Great Falls, VA