The Sharpened Sword
August 3, 2011
The girl is on her knees and she is crying. Hot, thick, dripping tears that start in the soul and ooze out of the body in a painful prick of throat closing sorrow. The tears trickle down, first tickling her face and then flowing with soft intensity over well watered tracks tracing down her cheeks. They plop upon the wooden floor in sweet, gentle kisses that her closed eyelids mask her from seeing. The eyelids cover her heart from peeking like two warm hands over a friend's eyes. A bird fwips by her window and shifts light through the room, but she does not look up. Her soul is shut and her spirit is focused on the deeply shaded world concealed behind her eyelids.
She is interceding.
In her mind she sees another girl, on the ground like herself. But this girl is broken and young and her straight black hair frowns over her face as if attempting to make the eight-year old seem thirty with just two slight wrinkles. The pain of the room is palpable. Every night the little girl is bought and used and beaten in this very dark room. She doesn't know who she is anymore. She doesn't know what worth is, or what it feels like to be loved. She doesn't even know what it is to be alive anymore. If she spends her every day imagining that she is dead, can she really be alive?
The only thing this little girl knows is that every night a different monster enters her cave and, while some nights are worse than others, none of them are bearable. She has a little television that shows cartoons in the morning. She sits in front of it now without watching, two-dimensional and as unalive as a crumpled paper. Paper doesn't know what it's like to be loved. It just gets used.
This is why the girl, our girl, is kneeling. She is at home and it is night and she would normally be asleep, but she isn't. Instead, she is crying out for freedom—not for herself—but for this phantom girl that God has put upon her mind. She kneels and words tumble out of her, tossing around in her mouth like intelligent marbles. Ardently, she throws them out, trusting that it's true and real and exactly what she needs to be doing. She doesn't try to control the words or stop them, even though she knows she can. She simply continues to open her mouth and let the language escape. This prayer inspired by God is not something for her to stop or control, and so she promises to pray until her jaw collapses and she can open her mouth no longer. Continuing until she is told to stop, she will not end this prayer for anything other than her lover's voice.
She is only a girl, but she is enabled and equipped for a spiritual battle that lasts through the night.
Broken. Compassionate. Interceding. Our praying warrior jerks as she sees the girl in her mind stand and run. The loveless child leaps, and in her home, our girl's throat swells with exhilaration and hope. But the child is jerked back by unseen chains and her spirit is thrown again into a sick dungeon of mildew death.
Drips. Despair. Dung. The interceding girl can taste it running over her tongue like glue. The smell of it threatens to overwhelm her. She cries out, again, and again, "Save her, God!" The intercessor's heart continues to scream and sews words together in a rising rhythmic plea. "You say in your word that you don't want even one to perish! God, you say you want her! Show it! Set the captives free! Oh, God. I know you want to, I know you can. I'm asking you to do it. Do it even now." She rocks forward, then back, intensely unaware of everything else. "God, she needs you."
A pool of slick saltwater soaks into the pinewood floor of the girl's room. Above it, the girl's mouth moves and a song rises up, the sound flowing out the girl's chest in a continuous ballooning stream of praise. It begins in her lungs and travels into her mind and lips, but it originates in heaven, and to heaven it soars again, scraping and slipping and melding with the songs of the angels as they minister to our Lord.
This is intercession.
Hours later, she is still there, unmoved. She is still crying. She is still kneeling.
And miles away, a legion is fighting. Fighting for the freedom of this black haired girl that nobody even cares to remember.
One girl, kneeling, crying, singing, who may never see the fruit of her prayers.
But she has one God who is never going to ignore his daughters.
And so the girl in the dark room is no longer alone, and the light in the corner is never going to leave. Whispers in her ears are silenced, and victory is coming. It reaches over the hearts of the calloused and dives into those who desire to abolish this slavery. This girl will be freed.
As our warrior rises from her kneeling and gets into bed, she looks at the creeping peer of dawn, and she knows.
Not all prayers are said in a church. Not all battles are fought with swords.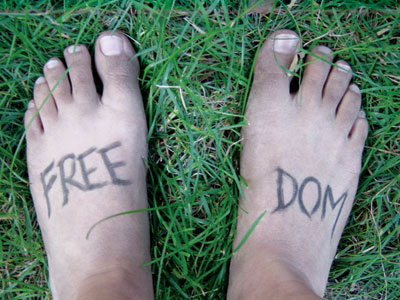 © Anna B., Northville, MI