Charlotte
July 28, 2011
I didn't need anyone. I was okay by myself. My parents were gone years ago. At 15 you shouldn't need anyone. I was ahead. I had no one left.

The night my girlfriend broke up with me, my parents died. The next week, my sister committed suicide, leaving me, a cat, a house, and a car.

Life was done for me. I knew that. I couldn't care less about school. Foster homes sucked, and changed every month. Some how, every school seemed the same.


I am now with a young rich couple, who have sent me to a normal, suburban, public school. The first days were fine, classic, dead.

She walked in the fourth day I was there. She had black hair, and a fair complexion. Her dark, huge eyes seemed to burn every thought out of my mind. She had deep red lips, blood was dripping out of her mouth and staining the area. Her curvy body was covered in black and white, with hints of reds and greys. With 4 inch platform shoes, she stood only at my chest.

She was the thing that kept me in school. I was graduated, but just barely. I never saw her again, but the girl names Charlotte made me alive again.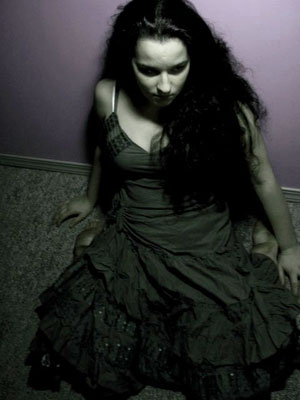 © Brianna D., Everson, WA