The Debut
July 23, 2011
A spring night in 1984 arrives humid and hot, stifling Olivia and Marissa's dorm room at the University of Chicago. Olivia reads a book, nestled on a heap of blankets and pillows. Marissa struggles to zip up her black jersey-knit dress, pulling at the silver zipper. She grasps a stack of thick, glittering bracelets, and tugs on a pair of strappy black stilettos. Olivia watches as Marissa snatches up a leather clutch, gearing up to dash out the door.
"Wait!" Olivia halts Marissa. "Your tag is sticking out." She reaches her hand out to fix it.
"Stop it!" Marissa bats her hand away. "I'll get it later."
Marissa's friends arrive, enveloping her in a sea of people. Olivia sighs, returning to her work. At ten she falls asleep, while Marissa comes back at one in the morning. She clomps around the dorm room, every slam, bang, or crash sending Olivia into a fit of restlessness. She tries on different makeup combinations for an hour, before collapsing into sleep around two.
The next morning dawns bright in their room. Gentle sunlight dances on the floor. Marissa, after a night of partying, wakes early. Seizing the opportunity to enjoy the weather, she quietly slips into gray pleated shorts, a stomach-skimming knit floral tank, and electric blue Converse. She twists her brunette, frizzy hair into a fishtail braid, and carefully applies a coat of lip balm. The day beckons with a hushed bird's call, and so Marissa leaves.
The door slams shut, and Olivia, startled, jumps. Just Marissa, she thinks dreamily, and shifts around on her creaky bed. Her alarm nags her to get up. She hustles her thin frame to her closet, where she dresses in her comfiest sweats and t-shirt. Even though the sun is shining, Olivia's sick. Her work is all done, but she doesn't want to leave the room.
Marissa has a large bookshelf filled with delicacies from Barnes and Noble—and Olivia is desperate for some entertainment. She begins to peruse the titles, most of which relate to Marissa's major, Fashion Design. Coming Out catches Olivia's eye—she didn't know that Marissa was the debutant-type.
Marissa walks around the campus, a single thought circulating in her mind. Why couldn't she face her fear of saying two simple words? Rejection? She'd seen many people encounter the same situation she's in, yet emerge stronger because of it. It wasn't like being gay was so hard to say. It was okay to like girls. It was only what society thought that was holding her back.
Olivia fingers the book's flimsy cover, toying with the words that lie inside. She cracks the binding, and crisply flips to a page.
Staying hidden as lesbian can be tough. Luckily you don't need to worry anymore. In the following chapters you will learn different tips and tricks for coming out to society—and being accepted. Check out our Table of Contents to see where to begin.
For a second, Olivia can't catch her breath. Secrets aren't something she can deal with, especially one that she discovers accidentally. She frantically paces the room.
Marissa bursts into the dorm room, expecting Olivia to be asleep. Instead she's met with averted eyes. A fat layer of tension is sticky in the air. Marissa doesn't want to deal with any more drama, however. She begins to fold her clothes, humming a joyous melody to herself. Olivia is hesitant to disturb Marissa's happy attitude, but it's imperative to talk to Marissa.
"Um, Marissa?" she attempts to capture Marissa's attention, but she's absorbed with putting her clothes away.
"Sorry, Marissa, but, uh, I kind of—by accident—read your book. It's okay—I promise I won't tell anyone." She holds her breath and hopes for the best. Marissa isn't known for an even temper. Yet she continues to place her clothes in the closet. A sly smile creeps up her face.
"It's…okay." She responds quietly, surprising herself.
"Okay?" Olivia's taken aback. "Well. Um. I guess. I just thought that there'd be this huge blowup."
"Yeah. Well, I can see why you'd feel that way." Silence echoes prominently in the room.

Neither girl speaks. Satisfied, Olivia leans back on the feeble bed, while Marissa continues to occupy herself with mindless activities. Olivia continues her chapter, relief in her eyes. Marissa begins to slide out the door, when she notices something.
"Wait! Your tag is sticking out!" She exclaims to Olivia.
"So fix it," Olivia shrugs.
Marissa smiles, and tucks the tag back into her shirt. She saunters out of the dorm. The clouds amble by, the sun interspersed throughout them. Spring shoots rustle in the breeze, and birds chirp amicably with one another, an animated conversation.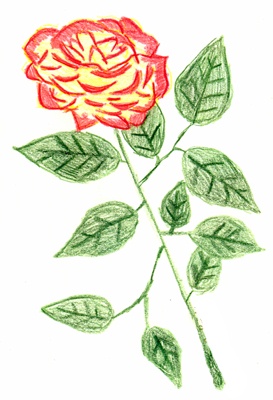 © Kelly Z., Niscayuna, NY