Terrible Dream Picker
June 4, 2011
I kept my head pointed down, just enough where people couldn't see my red face and teary eyes, but not to much so I could see where I was going. I hurried down the crowded sidewalk, in the direction of my apartment building. My apartment was on the bottom floor with it's own entrance and all I wanted to do was walk in there, slam the door, and let it all out. I turned down the street and passed people selling magazines and happy couples walking together, some even pushing a baby stroller. That's all I wanted.

I had spent all last night with Mason. Me and Mason. Mason and I. My name was Macy, and being with Mason was my dream. Macy and Mason. How cute?

I loved Mason, still do, always will. He was just someone I couldn't live without. I met him while I was in high school, junior year. I had given up going to my dream college so I could be near my dream guy. I gave up one dream for another.

Last night started out great. We were eating greasy Chinese take out. Mason was watching baseball and I was curled up next to him. His arm was draped around me and I felt so content. When the game ended he carried me away. Carried me to his king size bed, not that we did anything but snuggle and sleep. When I woke up he was gone. Gone to the living room to watch more TV. All I did was ask him if he would eat lunch with me.

"I'm busy all day today," he didn't even glance at me.

"Your just going to hang out with your buddies. Smoke and drink and party." I crossed my arms and stepped in front of the TV. He glared up at me and then stood up, taller and bigger than me. I was small, petite. He was tall and muscular. I felt a pinch of fear, but ignored it. I stared up in his face.

"I'm a grown man, I do what I want." He growled. I noticed the empty beer cans around us and the half drank one on the coffee table. A second pinch of fear joined the first one.

"Your 22, you should be growing up. Leave your high school habits behind." I looked into his gray blue eyes.

"Don't tell me what I should be doing," his nasty beer-breath assaulted my nose and I put my hand over my nose and mouth. That made him mad.

"Oh, woman, you make me so mad." He raise his hand as if to slap me and I flinched.

After a moment of silence I opened my eyes and looked at him. His hand was frozen in the air.

"You wouldn't slap me." I said quietly. And then I was on the floor. The pain shot through my whole body. I was shaking badly and I heard his cursing under his breath. He grabbed my arm and jerked me up. Holding me up and glanced at my face and his face softened.

"Macy, I didn't mean, too," he apologized, but I just jerked my arm away. I only had on his t-shirt and I ran to his room. I gathered my clothes and came running back out, but he blocked the door.

"No, Macy. Listen." He reached out to touch me, but I stepped away. My trembling was noticeable, obviously, and he looked scared.

"Macy, honey," he stepped forward and I darted around him and out the door. I hurried into the stair well and when I heard him not following, I changed into my normal clothes and thought about dropping his shirt down to the basement, but clutched it to my chest and made my way to the lobby.


In my apartment, I let myself cry a little and I touched my cheek where his hand had made contact. It ached and the ache reach my heart and my heart ached more. Oh, Mason, why?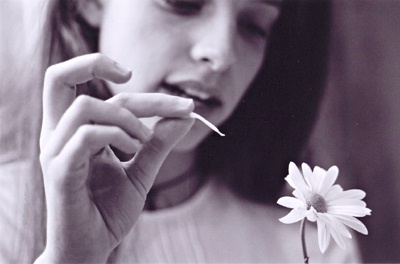 © Emily B., Houston, TX