Lost and Found
May 24, 2011
There is only one reason why I am here lying in this bed tonight, alive. That one reason is softly sleeping right beside me, smiling as he dreams.
My life before today had been a long and painful journey. Every day, I had felt my heart shrink smaller and smaller. My mind wandered through
every possibility there had ever been for me.

I was always alone in my house of people. My older brother had no mind for me past the age of fifteen and my mother was always too busy with something that always seemed too unimportant. My father too was never at home, working long days, sneaking home to a family that was all gone, asleep, and lost in their dreams. Yet, my father didn't care to reach out. He didn't even slide into my room or my brother's room to seal one, single good night kiss.

Thinking back, I have never experienced an "I love you", or one of those heartfelt hugs that lasts what feels like forever. I had never experienced tears of joy. I can't even remember feeling joy. All I can remember is what was burned into the back of my brain: the sadness and the never ending tears. I felt pain so extreme for I stayed up late every night peering through my bed sheets, waiting for my father to come... waiting for some kind of reassurance that I'm not as alone as I feel.

The day I realized my father would never come, something inside me died. All my hope was lost along with my parent's forgotten daughter. After that day, I felt numb and lifeless. I became weaker than I ever was before and more than my hope began to die. So the first chance I got, I ran. I ran so far away that I didn't know where I was going. I just knew what was keeping me going. What was keeping me going was the anger I developed from waiting so long for a family that
would never be perfect. All that anger powered my hard strides across the outside world I did not know.

I eventually found a small place to stay with my small amount of savings that I had tucked away in a single book I carried on my escape to The Unknown. The Bible. Although I had lost all hope for my family and the life I led at home, I had not lost all faith. I felt leaving would lead to somewhere better: the place that was meant for me all along. I found low paying work and high spirited friends that seemed to understand the things I thought no one else could. One of these friends I found was named Alice. Alice was a wonderful woman who knew how to talk to people. Even if she wasn't saying quite the right things, she knew knew how to say it so it sounded just the same. Sometimes I didn't know the difference and I didn't want to, so I'd go to her to find the happiness I thought might be hidden deep down.

Alice ended up being my link to the future. It was at her wedding that I met my future husband, Henry Johanson. I could tell from the start that Henry was extraordinary. He supported me no matter what, and always encouraged me to do what I wanted to do, what was best for me. My heart melted every time he flashed that smile. From the first day I saw him, I knew he was the one.

So here I lay beside him, thinking so hard and somehow I feel him stirring from his deep sleep. His eyes slowly open to my worried glance. "Jenny..." he whispers. And he pulls me close into a hug so tight, so bound it feels like our connection can never be broken. But once we do separate, Henry whispers into my ear, "I love you," and I fall back against my pillow. Silent tears follow slow trails down my swollen cheeks. Tears of joy.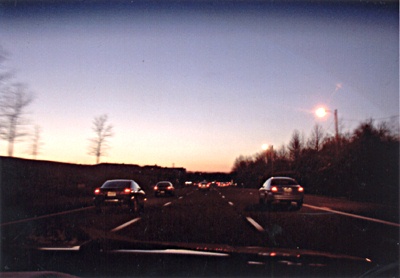 © Carolyn K., Toms River, NJ